A new battle has broken out between Airbus and Boeing, this time with a sharp (and perhaps unprecedented) advertisement by Airbus accusing Boeing of outright lying.
(Click to enlarge.)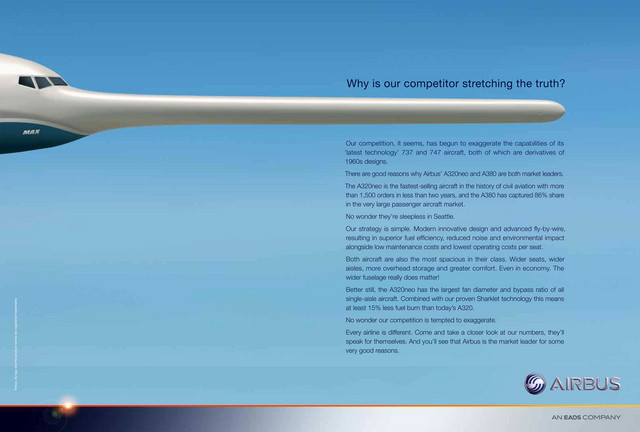 We don't remember ever seeing this direct assault by one of the Big Two OEMs on the other. We certainly recall advertisements in the debate over two engines (Boeing 777) vs four (A340)–but to call the competitor a liar like this? It's new territory, at least in print.
Airbus has been calling Boeing a liar in conferences for its representations for years.
As regular readers of this column know, we've been especially skeptical of Boeing claims, based on conversations we've had with airlines that have analyzed the aircraft involved, and in some cases those which operate both fleet types. The neutral arbiters–these customers–universally tell us Boeing claims are exaggerated and that the costs between the two OEM's narrow-body aircraft are about equal. The costs between the Boeing 747-8I and the A380 are also exaggerated by Boeing, these companies tell us.
Furthermore, we've cast doubt on Boeing's reliance of US DOT Form 41 data (which in itself is distorted and unreliable) and a study in Europe that looks at data from 2006-2009, data that is clearly out of date.
At the same time, we've taken Airbus to task over its parameters in concluding the A330-300 is a better airplane economically than the forthcoming 787-9.
At ISTAT Europe in September, an official from Virgin Atlantic publicly challenged Boeing's Randy Tinseth over economic data Tinseth presented comparing Boeing and Airbus aircraft. Tinseth, according to those present, merely responded that he stood by the numbers.
Bloomberg has this story on the controversy. Reuters has this story.
In a way, the entire fight is silly. No airline or lessor will buy Airbus or Boeing aircraft based on these sort of claims. The airlines run their own economic analysis and the lessors are more concerned about lease rates and residual values. The entire conference and advertising effort is for consumption by uninformed journalists, financiers and aviation geeks. Those who actually understand the nuances tend to dismiss the claims of either manufacturer (as we do) and run our own analysis or rely on the airlines and lessors for impartial information.
The market has spoken. Airbus currently has sold about 1,400-1,500 A320neos to Boeing's 1,000 737 MAXes. Airbus also, in recent years, has sold more current-generation A320s than Boeing has sold 737NGs. For the Very Large Aircraft, Airbus has an 86% market share of passenger airplanes.
These statistics tell more than anything Airbus or Boeing manipulate.