New CSeries EIS: Bombardier today announced a new delay in the entry-into-service of its CSeries, confirming what we reported Monday. BBD now says EIs will be in the "second half" of 2015, compared with the September 2014 planned EIS. We forecast a 6-9 month delay, so this now is a 9-15 month additional delay.
BBD's statement: "The CS100 aircraft's entry-into-service is now scheduled for the second half of 2015 and will be followed by the CS300 aircraft's entry-into-service approximately six months afterwards.
"We are taking the required time to ensure a flawless entry-into-service. We are very pleased that no major design changes have been identified, this gives us confidence that we will meet our performance targets," said Mike Arcamone, President, Bombardier Commercial Aircraft. "While the process has taken more time than we had expected, our suppliers are aligned with the program's schedule and together, we will continue to work closely to move the program steadily forward. With the first flight of flight test vehicle 2 (FTV2) successfully completed on January 3, 2014, the CSeries aircraft program will continue to gain traction over the coming months."
Below is what we published Monday.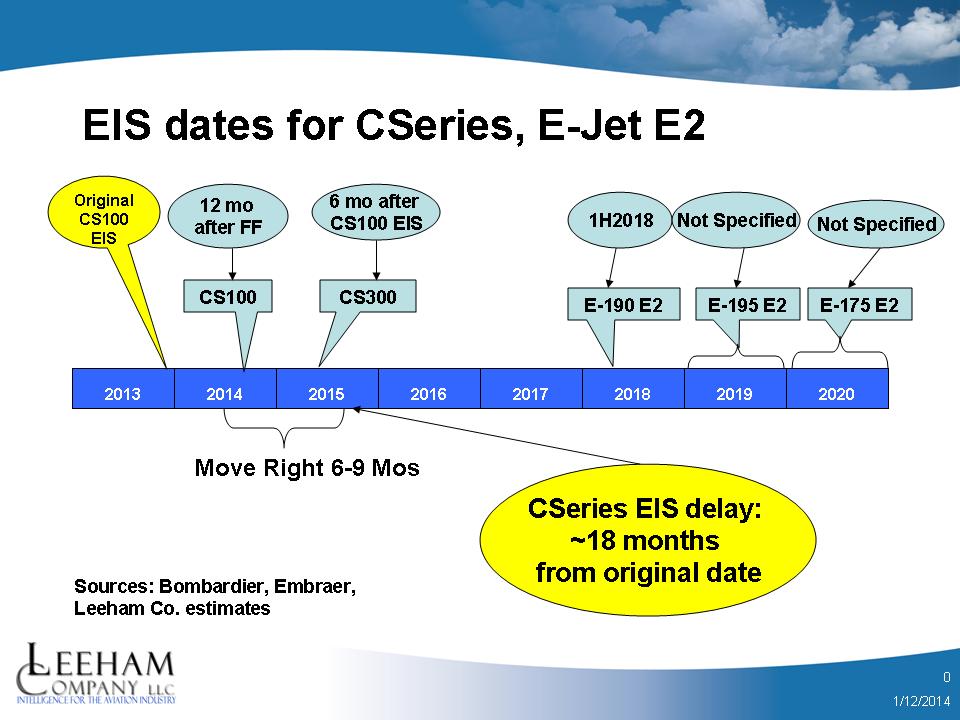 We're now looking at an 18-27 month delay for the originally planned EIS of December 2013.
Update: BBD tells us the the "software maturity" is behind the rescheduling. Basically, this means that all the various software systems have to completely and correctly talk to each other and avoid the issues that "have affected our competitors." BBD declined to name the specific affected systems nor the suppliers, instead saying that this is a Bombardier "team" project and that the "team" is on board with the new timeline.
In addition, Bombardier and a Middle East airline announced an order for the CSeries.
Airbus seeks big ETOPS OK: The Wall Street Journal reports that Airbus is seeking regulatory approval for a 420 minute ETOPS for its A350. (Subscription may be required.) This means the airplane could fly seven hours on one engine if the other one fails. It opens trans-polar and trans-Antarctica route opportunities.
The Boeing 787 is restricted to 180 minute ETOPS. The Boeing 777 has 330 minute ETOPS.
Via Jon Ostrower, here's an example of what works beyond 330 minute ETOPS.
Meanwhile, Boeing has begun high speed wind tunnel testing for the 777X.
Airbus v Boeing: The Seattle Times published a good graphic of the Airbus v Boeing order outcome for 2013.