Two orders were announced this week for the Airbus A330 and Boeing 777-300ER, important for filling the production gaps of each airplane. In the aggregate, the current backlogs go through 2016, though in reality, they stream beyond that date. See our charts below.
Airbus announced an order for 27 A330s from China, but these were the airplanes long frozen in the push-back by China against Europe in the emissions trading scheme objected to by China and a number of other countries. China routinely freezes airplane orders (among other commercial deals) to express its political displeasure.
At current production rates for the A330 or 10/mo, this adds 2.7 months to the Airbus backlog, but offset with deliveries, the aggregate backlog (i.e., if all deliveries were bunched together) means the backlog ends in 2016. With the Chinese order, Airbus announced 31 sales year-to-date.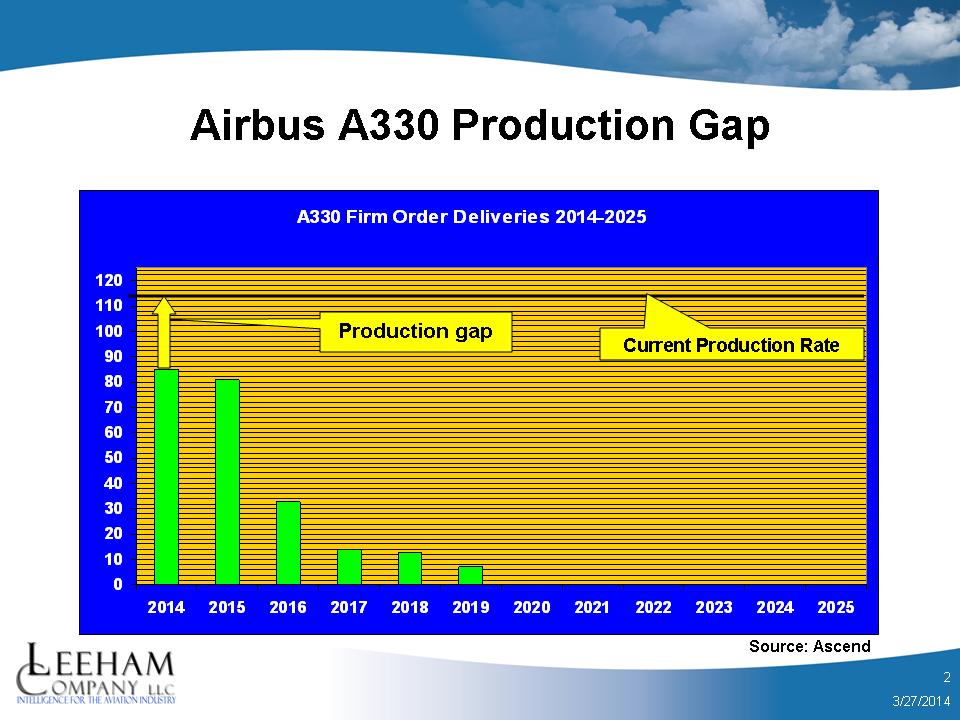 But the Chinese order didn't include any A330 Regionals, which had been expected. Airbus announced the Regional at the Paris Air Show and the airplane is intended for the Chinese domestic market. An order for 150 was expected to be announced during the Chinese state visit to France this week. Boeing is aggressively promoting the counter-offer of two 737s for every A330 as more economical. The absence of the A330 order must mean Boeing is making a strong case.
Boeing announced an order for six 777-300ERs, 20 777-9s and 14 787s. Boeing faces a substantial production gap for the 777 Classic.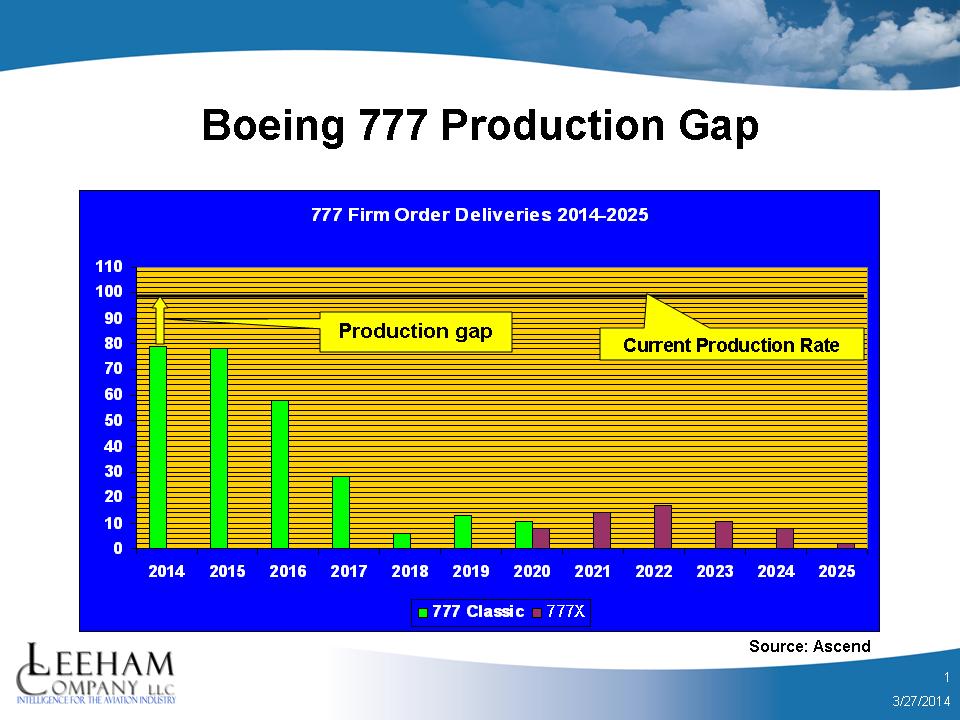 The two charts only are for firm orders, and do not include options or letters of intent. The 777X data does not include most of the commitments announced at the Dubai Air Show, because only some 30 were actually firmed up last year. The balance of the firm orders are those for Lufthansa Airlines, for 66 in total.
The data in the charts are through February.
The 777 Classic production rate is 8.3 per month, or 100 per year. The A330 production rate is 10 per month, or 115 on an 11.5 month year. Neither company has any scheduled deliveries beyond 2019/2020 of the current in-production models. The A330 includes the A330 MRTT.
Airbus has stated it wants to continue production of the A330 to at least 2022 if not beyond.
As we have written previously, neither company has sold enough of these airplanes to provide a book:bill rate of 1:1 in many years, with one exception for Boeing when Emirates splurged on 777 orders.
We don't believe either company will be able to match orders to production, based on history, and will inevitably be forced to reduce production rates.