Hawaiian Air's A350-800s: Hawaiian Airlines July 22 ordered six Airbus A330-800s and simultaneously dropped its order for six A350-800s. HA also took six purchase rights for the A338. Deliveries begin in 2019.
The A338 is slightly smaller, nominally at 252 seats, and has somewhat less range at  7,600nm than the 276-seat, 8,250nm A358, but only Hawaiian knows how much it needed the extra range. Losing the extra seats does give HA a hit to revenue potential, however. For wide-body airplanes, Airbus says each seat has the revenue potential of $2m/yr.
Offsetting the revenue loss is a far lower capital cost for the A338 vs the A358. Our economic analysis, based on technical specifications estimated before the Farnborough Air Show and before Airbus revealed data for the A338, showed the A338 pretty close to the A358 on a pure operating cost basis, not including adjustments for capital cost.
HA also benefits from commonality between the A330neo and the A330-200(ceos) it currently operates. No fleet integration costs, other than for new engines and minor airframe/wing modifications, will be required.
Additionally, based on previous Market Intelligence when A358 orders were swapped (in those cases, for the larger A350-900/1000), we believe it likely Airbus provided some additional incentives for HA to switch.
HA's cancellation of the A358 means there are now 28 firm orders left for the airplane (as far as we know).
A330neo Market Potential: Just what is the market potential of the A330neo? The data vary widely.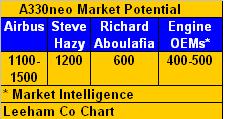 Airbus officials varied publicly from, initially, the "hundreds" (which we more or less narrowed down to about 500 during the Airbus Innovation Days) to 1,100-1,200 and more recently 1,500. Steven Udvar-Hazy, CEO of Air Lease Corp, had a different forecast. Consultant Richard Aboulafia had still another. Finally, based on our Market Intelligence, engine OEMs figured the market to be 400-500.
Our view is that if there were a market for 1,000-1,500, this could support the business case for GE Engines and Rolls-Royce to be suppliers for the airplane–but not if the market potential were 400-500 (or even 600). According to our Market Intelligence, GE dropped out (Airbus says RR won on commercial terms).
Airbus officials have been quoted as saying the A330neo could be in production to 2030. This seems pretty optimistic–that's 12+ years from EIS in late 2017. A market of 1,200 airplanes would support production rates of 10/mo (the current rate), and actually stress this rate a bit since Airbus doesn't work a 12-month year. A demand for 1,500 airplanes would require an annual rate of 125, a slight increase in production rate (highly unlikely, we think).
Airbus officials are already talking about a rate of 7-8/mo for the A330ceo and initially for the neo. 80-92/yr on the truncated Airbus schedule.
Engines and Airbus: Flight Global has an interesting analysis of the migration of exclusive supplier agreements that have evolved with Airbus and Rolls-Royce for wide-body aircraft. Aviation Week has a story that discusses the development of the Trent 7000 for the Airbus A330neo. The AvWeek piece helps explain how Airbus has targeted a much shorter period from program launch to EIS for the A330neo.