Jan. 30, 2017, © Leeham Co.: Boeing will decide this year whether to boost 787 production to 14/mo from 12/mo by the end of the decade.
I don't see how this can happen. Neither do several aerospace analysts.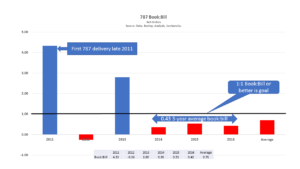 Book:bill sales were just 0.36 in 2014, 0.53 in 2015 and 0.42 in 2016. The last three years saw a book:bill rate average of just 0.43, or an average of 57 airplanes per year.
Boeing is burning off the backlog, not adding to it. At this rate, Boeing won't be able to sustain rate 12 beyond 2020, let alone boost the rate in 2019.
Not unless there is a plethora of sales this year. This doesn't seem likely.
Securing more orders
Dennis Muilenburg, CEO of The Boeing Co., said on the third quarter earnings call the company doesn't see a recovery in wide-body orders until the start of the next decade.
Yet more orders are needed this year to support rate 14. He had this to say last week on the fourth quarter/year-end earnings call:
"Our 787 Dreamliner program also stands on a strong foundation for long-term production with 700 firm orders in our year-end backlog. Securing additional 787 orders to solidify the 14 per month production rate at the end of the decade remains a priority. We've booked several new orders in 2016, but there's still more work to do."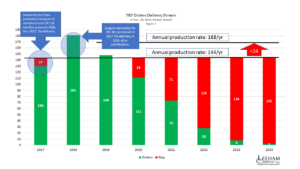 Muilenburg said the 700 backlog orders is five years' production at rate 12, which is true if all 144 airplanes were delivered per year. But deliveries stretch beyond 2020, tapering off beginning in 2020 and increasing each year thereafter. This is based on identified orders. There are more than 100 unidentified orders for which delivery dates are unknown.
Analysts doubt rate hike
Morgan Stanley, in a note issued after the earnings call, doubted there will be substantial 787 sales this year.
"From a book-to-bill standpoint, the company's expectation is for a year of similar orders vs. 2016 and implies a ~0.8x level, consistent with our forecast of 0.7-0.9x. In our opinion, the activity will be skewed to the narrow-body side given wide-body pressures associated with low oil and moderated (albeit healthy) traffic trends," the aerospace analyst wrote.
"We do not believe BA will ultimately hit 14/month, and believe there could be incremental pricing pressure on the 787-9s and -10s to be delivered in 2018-2020," wrote Canaccord Genuity in its post-earnings call note. "We continue to believe there will ultimately be a charge on the 787 program…."
"787 production decision coming this year; 14/month unlikely to us," JP Morgan wrote in its note.
"We believe a move to 14/mo from 12/mo is not likely," wrote Wells Fargo.
Filling the production gap
If we assume 2020 is full at the current rate, with 33 derived from those 100 Unidentified orders, Boeing needs to sell another 24 airplanes for delivery in 2020 to support rate 14.
From 2021, the challenge becomes much greater. Ninety-five sales for delivery in 2021 are needed, minus whatever is allocated from the Unidentifieds. (Note that the farther out, the more the deliveries taper off.) The number increases to 140 in 2022. There are virtually no delivery positions in 2023/24 in the identified orders.
Muilenburg points to a pending bubble (my word) of retirements coming from 2020. True enough, but Airbus will be competing for the same business. The required sales to support 14/mo just don't seem realistic to me–nor to the analysts quoted above. Even Bernstein Research, which rates Boeing Outperform and remains one of the most bullish of analysts, forecasts rate 12 for 2019 and 2020.