May 15, 2017, © Leeham Co.: Welcome back, Commercial Aviation Report.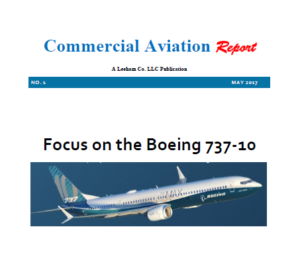 Today Leeham Co. is re-launching the publication that became the foundation of an international publishing and conference company and which ultimately led to the creation of Leeham Co. and Leeham News and Comment.
Commercial Aviation Report, or CAR for short, was launched Oct. 1, 1989, by Scott Hamilton, Chris Kjelgaard and Bernard Tilbury. The bi-weekly newsletter evolved into a magazine and later the creation of a monthly, Commercial Aviation Value Report.
It's conference unit, Commercial Aviation Events, became one of the top aviation conference organizers. CAE created the first commercial aviation conference in Eastern Europe, after the fall of the Iron Curtain; and the first commercial aviation conference in China.
CAR and CAE created the first aircraft valuation conference, an event focusing entirely on aircraft values, appraisals and related activities.
Kjelgaard left the company in 1991. Tilbury and Hamilton sold the company in 1999. Ownership changed twice more and the final owner, Reed Publishing (Flight International) folded the brand into the Flight name and operations in 2007.
The new Commercial Aviation Report will be a special report publication. CAR will focus on one topic for special, in-depth analysis and reporting.
The first issue today is a Focus on the Boeing 737-10, an airplane Boeing may launch as early as the Paris Air Show next month.
The second issue will be published next week. It is a preview of the Air Show, compiling what to look for from the airframe and engine OEMs at the show. In the past, Leeham News ran these previews as stand-alone posts, one after another in the weeks leading up to the Paris or Farnborough air show.
CAR will be an added benefit for paying subscribers, who will have access to the publications behind the paywall. Non-subscribers may purchase a copy. The price depends on the nature of the Focus report.