Nov. 12, 2017, © Leeham Co.: In a stinging defeat for Airbus, Boeing won an order for 40 787-10s from Emirates Airline.
Airbus competed for the deal with the A350-900. Emirates previously canceled an order for 50 A350-900s and 20 A350-1000s, an embarrassment at the time. Losing this order was largely expected, but based on comments from airline officials earlier this year, it seemed that the order would be put off until next year.
Bloomberg News has this devastating report.
Unreported from this order is that it seems to indicate a changing strategy for Emirates.
New strategy?
The order for 40 aircraft is barely more than half of the cancelled orders. Although Boeing officials touted a strong future for the Middle East airlines, the reduced size of the order suggests Emirates is taking a more conservative approach toward growth.
The order may also suggest that Emirates is recasting its growth ambitions to destinations nearer to its Dubai base.
The 787-10's fuel-limit range is 6,400nm, according to LNC's analysis using normalized three class seating (but not EK's configuration) and common winds and alternatives. The A350-900's fuel-limit range is 7,800nm.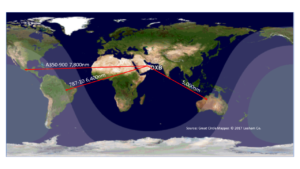 LNC's analysis over a 5,000nm route gives the 787-10 a 3.5% per-seat cost advantage because it carries more passengers. The larger A350-900 wing, designed for an advertised range of 8,100nm, means the A350-900 carries more weight around than the 787-10.
The range differences mean the 787-10 can reach only a small portion of the US, South America and most of Australia (but not Sydney). The A350-900 could reach all of the US, all but a small portion of Central America, most of South America, all of Australia and most of New Zealand.
The Boeing 777-8/9 Emirates has on order reaches all destinations, making the A350-900 (or slightly shorter-ranged A350-1000) duplicative.
The A350's fate may have been sealed with the 777X order. The slightly more-efficient 787-10 over 5,000nm may have tipped the scales (setting aside the commercial terms of the transaction).