June 13, 2018, © Leeham News: The news Friday that Airbus and Bombardier concluded the deal in which Airbus takes a 50.01% ownership in the C Series program was greeted favorably by two analyst reports LNC saw.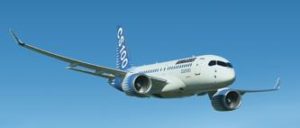 Credit Suisse and JP Morgan each called the approval by all regulatory authorities and closing the deal—well ahead of schedule—as positive catalysts for the C Series.
A synopsis of the two research notes are below.
The partnership becomes effective July 1, just two weeks ahead of the Farnborough Air Show.
Air show orders?
Will there be any orders at the air show from the Airbus influence?
Given the short time between the deal's closing and the FAS, it seems aggressive to think Airbus will have any of its own deals to announce. Until the deal is effective, anti-trust laws prevents Airbus and Bombardier from coordinating sales campaigns or Airbus from pursuing its own sales and marketing.
But residual sales efforts by Bombardier may be announced at the show. Several campaigns were underway—Ethiopian Airlines and Kenya Airways were two publicly acknowledged competitions.
Other airlines that are known to be reviewing the CS300 are US carriers JetBlue and Spirit Airlines. The former said a decision will be coming this year, but it's unlikely to be in time for the air show. Spirit's timeline hasn't been revealed.
A US start-up airline called Moxy secured order positions for 60 CS300s, according to Airfinance Journal yesterday. A purchase contract may be signed in the third quarter this year—in which the FAS falls, as it happens.
A rebranding of the C Series is believed likely and it's possible this could be announced at the air show.
Analyst notes
Here is what two analysts had to say about last week's news.
Credit Suisse (Outperform)
CSeries deal is done: Bombardier announced on Friday that it will close the Airbus partnership ahead of schedule, with CSeries results set to deconsolidate beginning on July 1, 2018. We view today's long-awaited conclusion of the Airbus/BBD JV as a positive catalyst, as it cements Airbus' commitment to the CSeries program. While the JV does not become effective until July 1, we see this timing as primarily for clean accounting purposes; the ink is dry, and there are no remaining hurdles. That said, while we do see this as a catalyst for orders, we suspect that customers will wait until after July 1 (possibly until mid-July's Farnborough Air Show) to avoid any perceived ambiguity in placing an order during this interim period. BBD remains our top pick across all of A&D, and we reiterate Outperform.
Guidance Update: The deconsolidation of CSeries drove a decline in '18 revenue guidance to $16.5B – $17.0B (from $17.0 – $17.5B), reflecting migration of program sales, partially offset by the reversal of eliminations at Aerostructures. As CSeries is loss-making, EBIT guidance was increased to a range of $900M-$1.0B (from $800M-$900M). Note that this EBIT guidance includes the effects of BBD's pickup of CSeries losses, which are expected to be on the magnitude of ~$84M for BBD in the second half (~$200M for the JV). FCF guidance was reiterated at breakeven +/- $150M, as CSeries was always expected to be CF neutral in 2H'18 (on w/c timing). Mgmt's 2020 objectives were reiterated as the deconsolidation had already been factored in.
Future C Series funding: Future cash contributions to the CSeries JV will be included in investing activities and excluded from the definition of FCF as consideration in the form of JV shares will be received. BBD's funding requirements to the JV remain capped at $225M for 2H '18, $350M for FY'19, and $350M in aggregate over FY'20 and '21. Although unexpected, any cash requirements beyond that will be split proportionately between Airbus and BBD (not Quebec).
JP Morgan (Overweight)
Bombardier offered some guidance updates for the planned close of the C Series partnership with Airbus on July 1. The timing is as expected. Details are below but big picture, the C Series benefits BBD/B shareholders if Airbus/Bombardier can produce it profitably and at an acceptable rate over time. By supporting demand, the Airbus partnership is critical to ensuring this occurs. Closing the deal is, therefore, a step forward but one that has been expected, The next potential positive catalyst for C Series, in our view, would be new order announcements.
BBD/B will de-consolidate the C Series program. Bombardier had disclosed plans to do this, and so it is no surprise to us that 2018 sales guidance is down. The reduction to the range is $500mn, and it consists of not recognizing delivery of perhaps 25 C Series in 2H, partially offset by no longer eliminating internal C Series sales out of the Structures business. (These sales are now to the C Series JV, technically an external entity.) The range for EBIT is up $100mn since Bombardier will recognize fewer C Series early production losses, though Bombardier's share of C Series losses still show up in BCA.
2018 cash flow guidance unchanged at breakeven +/-$150mn. Bombardier will no longer count C Series payments in FCF because these are now investments that increase its stake in the JV. This should not matter for 2H, however, with C Series cash likely to be about breakeven as deliveries offset production losses.
We do not see much change BBD's required C Series investment. Technically, Bombardier is "on the hook" for an additional $225mn in 2H and the time period for Bombardier's cumulative $700mn of investment over three years begins at year-end, not at close. However, Bombardier's apparent additional cash requirement reflects an earlier than initially expected close and without these adjustments, we assume Airbus would have stalled. Plus, repaying advances to Pratt & Whitney should drive most of the 2H spending (i.e. most of the $225mn) and these inflows were never part of Bombardier's FCF.
2018 C Series delivery guidance down to ~34 from ~40. Initial delivery guidance had been ~40 aircraft but now deliveries are expected to "double" from last year's 17. We believe this reflects a desire to support customers by not disrupting the pace at which they want to induct new aircraft with a delivery schedule that is weighted heavily toward 2H. We are not particularly focused on near-term deliveries: the key for C Series, in our view, is to win more orders and be profitable beyond 2020.
2Q charges will be part of adj. EPS. In Q2, Bombardier will take two roughly equal charges totaling ~$500mn after tax related to the C Series closing: both are non-cash and neither is meaningful to our outlook. One charge reflects the warrants associated with the Airbus deal and it is so large because of the increase in Bombardier's share price. The second reflects the difference between the 2% dividend on Bombardier's C Series investment and a hypothetical return on that capital.