Subscription Required
Introduction
June 18, 2018, © Leeham News: The era of the Very Large Aircraft appears over.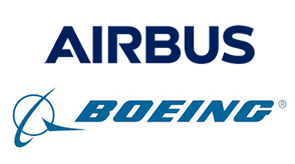 The Boeing 747 passenger airliner, while nominally still offered for sale, is in reality dead.
The Airbus A380 limps along in what may prove to be a vain hope that airport congestion will spur sales next decade.
The next level down, however, doesn't appear very strong.
Sales of the Airbus A350-1000 stalled at 200 or less for years.
Sales of the Boeing 777X likewise stalled following program launch in 2013-2014. Although the 777X has twice as many orders as the A350-1000, fully 72% of them come from three customers, one of which is in serious financial trouble and may cancel or defer some or all its orders.
Summary
Orders for the largest Large Twin-Aisle aircraft lag the Small and Medium Twin-Aisles.
Big 3 in the Middle East are major customers for the 777X, A350-1000. Iran Air also buyer of -1000.
While Big Twin languishes, small- and medium-twins remain in demand.