July 11, 2018, © Leeham News: The order for 60 Airbus A220-300s, when added to the order for 75 A220-100s by Delta Air Lines and the anticipated order for 60 A220-300s by USA start-up carrier Moxy Airlines, nearly fills out the new Mobile (AL) production line through 2024, an LNC analysis reveals.
Construction of the A220 Final Assembly Line (FAL) begins this year. The first delivery is planned for mid-2020.
JetBlue and Moxy show first deliveries in 2020, according to company documents. Delta's deliveries begin this year from the Airbus Canada Montreal facility, but will shift to the Mobile plant.
Ramp-up
Production ramp-up of the Mobile FAL will begin at 2/mo. The current plan is to ramp up to 3/mo in 2021 and 4/mo in 2022. A rate of 4/mo is currently the top production rate planned, although LNC was told the FAL will have higher capacity.
Deliveries
Currently, Republic Airways Holdings is shown to hold delivery slots for 10 A220-300s per year 2020-2023. These slots are likely being reassigned to Delta, Moxy or JetBlue. The Republic orders are a holdover from when the company owned Frontier Airlines; the aircraft are not expected to be delivered to Republic.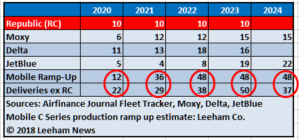 Based on excluding the Republic orders, but accounting for the other three airlines, 22 deliveries are scheduled for delivery in 2020. With a mid-year delivery for the first airplane from Mobile, there is an assumed production of 12 aircraft for the year.
This figure is an estimate, because it's impossible at this point to know how much inventory will build before the first delivery. Whatever imbalance emerges, LNC assumes the surplus will be delivered to Delta from Montreal before its order is fully transitioned to Mobile.
As the Mobile FAL ramps up, there remains capacity in 2021, 2022 and 2024, but at the moment, 50 deliveries are scheduled in 2023 vs a capacity of 48.
Potential orders
In the US, Spirit Airlines is pondering an A220 order. United Airlines included the A220 in its current fleet review. American Airlines, with a fleet of more than 100 Airbus A319s, will be in a position to consider the A220 early next decade.