Jan. 3, 2019, © Leeham News: The US private equity fund KKR agreed to invest $1bn in boutique lessor Altavair, a deal that includes taking a 50% stake in the company.
KKR may supplement the investment with additional commitments, the companies said.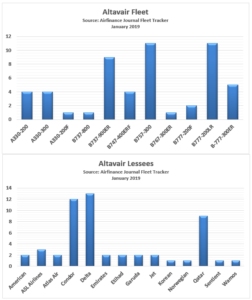 The initial aircraft investment will be six Boeing 777-200LRFs. The aircraft are being acquired from a Middle Eastern airline and will be leased to other carriers.
Altavair has a portfolio of 53 aircraft before this latest acquisition. It's a mix of single- and twin-aisle aircraft, passenger and cargo airplanes.
Delta, Condor and Qatar airlines are its biggest customers by airplane count.
Altavair, which was founded in 2003 as Guggenheim Aviation, a subsidiary of the Guggenheim funds, is headquartered in Issaquah (WA).
KKR was founded in 1976.