Plan called for 737 rate to go to 57/mo YE 2019.
This rate won't be achieved until 2023.
Rate reduction considered for 777.
 By Scott Hamilton
Feb. 5, 2020, © Leeham News, Lynnwood (WA): Suppliers attending the annual conference of the Pacific Northwest Aerospace Alliance say they gained some clarity from Boeing last week about future production plans for the 737 MAX.

But they still face a multi-year challenge that puts strain on everyone.
Boeing's plans to return to the pre-grounding production rate of 52/mo will take until 2022. Plans to boost the rate won't be fulfilled until 2023—four years later than planned.
Restarting production
Boeing last week said it expects to restart production soon, in advance of recertification of the MAX by the Federal Aviation Administration.
The best guess is that production may resume in April. Boeing EVP and CFO Greg Smith said the restart will be slow, deliberate and not add to the inventory of about 400 MAXes stored across Washington State and in Texas.
The production line is empty now.
Boeing CEO David Calhoun said it will take 18 months for Boeing to clear the inventory, or an average of 22 airplanes a month.
Last week, Spirit Aerosystems said it will deliver 220 fuselages this year to Boeing. This includes 116 737 fuselages it already produced but which are in storage.
Update: Spirit advised this morning that the fuselages to be delivered will be 216 new-builds, not including the stored ones.
Spirit also said it won't reach a production rate of 52/mo until late 2022.
Based on this and other information, LNA projected backwards to Boeing's start up and ramp up rate. Boeing's rate breaks historically are in increments of five.
Assuming an April restart (which may slip),using 220 as a starting point and Boeing's announcement that restart will be low and slow, the production rate will start in the single digits. The average monthly production should be about 20 through year end,  period of nine months. This is slightly below the average delivery projection of 22, over 18 months.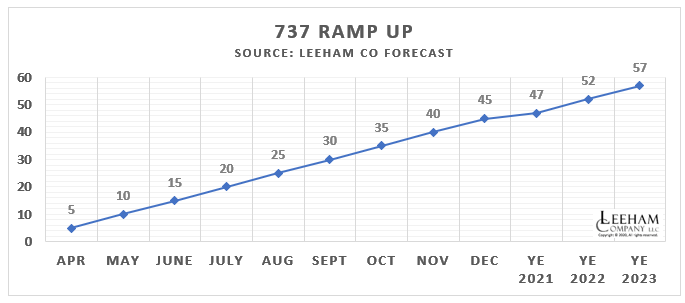 LNA expects initial delivery rates to be low and build throughout the year.
The FAA announced previously it will assume plane-by-plane certification of the inventory delivery. LNA believes this also to be true of the new production aircraft.
Rate reduction for 787
Even as Boeing resumes and ramps up 737 production, it's facing rate reductions for the 787 and, LNA learned, for the 777.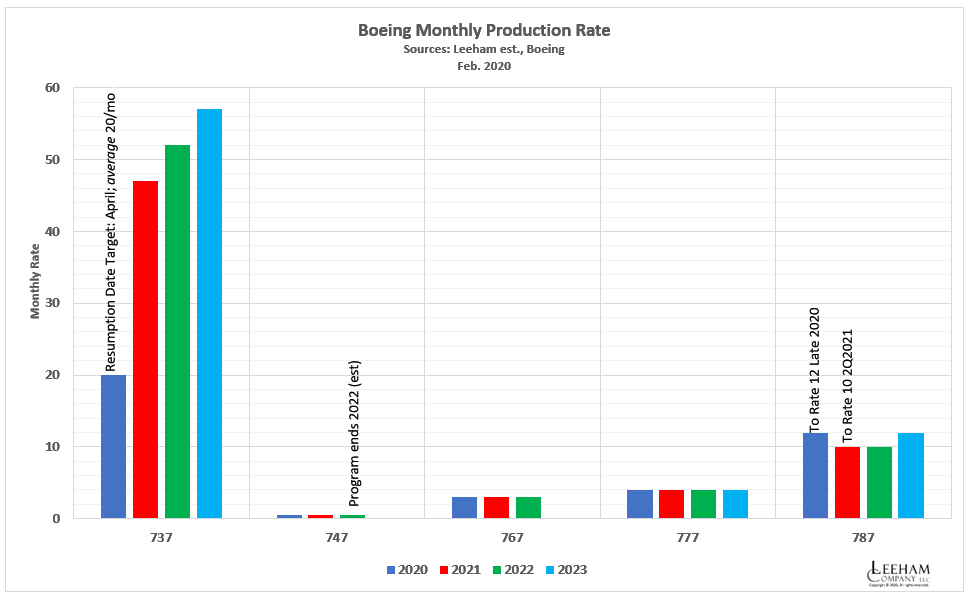 Last year, Boeing announced the production rate for the 787 will decline late this year from 14/mo to 12/mo.
Boeing last week confirmed reports that the rate will fall from 12/mo to 10/mo in 2021 and 2022. Officials hope it will return to 12/mo in 2023.
Officials have not said if the 787 final assembly lines in Everett, just up the road from here in Lynnwood, or Charleston (SC) will share the rate reductions equally.
LNA notes that the overhead cost allocation in Charleston is borne almost exclusively by the 787. (There is some minor work for the 737 in Charleston.)
On the other hand, Everett has the 747, 767 and 777 lines in addition to the 787 FAL to absorb costs added from a rate reduction of the 787.
Rate reduction for 777
But the 777 line may also be looking at a rate reduction.
With slow sales of the 777X and a shifting market trend down-sizing and further fragmenting, the 425-seat 777-9 may face the challenges the A380 and 747-8 had competing against smaller airplanes providing more point-to-point service.
LNA learned that Boeing is considering dropped the current rate of 5/mo (with a delivery rate of 3.5/mo) to 4/mo. Cargo traffic is softening, in part due to trade wars. Shifting economics also contribute to softer demand. Orders for the 777X have been canceled and deferred, creating a softer skyline than planned. The 777X is also running a year behind schedule.