April 20, 2020, © Leeham News: There just is little good news for the aerospace industry right now.
Airbus announced it will reduce production by a third across the A-Series airliners. I don't think this will be the last cut.
Boeing last week said it will resume production in the Seattle area of its wide-body airplanes. It's also now preparing to restart production of the 737 MAX, clearly a piece of good news. Defense-related production for the P-8 Poseidon and the KC-46A tanker resumed last week.
But Boeing hasn't laid out its production plans for the 7-Series airplanes. This undoubtedly will come next week. Monday is the shareholders' annual meeting. This will be held virtually at 9am CDT. Access is via the Boeing website. The first quarterly earnings call will be held two days later, also accessible via the web. Either meeting may outline the production plans for the rest of the year.
MAX remains grounded
The 737 MAX, of course, is still grounded. Boeing hoped for mid-year recertification. Recertification then is almost certainly off the table due to the virus and some additional software and wiring fixes now required. Production ramp-up is expected to be low and slow. It's highly unlikely that production will return to the pre-grounding rate of 52/mo for several years.
Production for the 787 and 777 is expected to be reduced below previously announced levels.
Suppliers to Boeing resumed production before now. Products are going into inventory. Boeing sees a need to keep the suppliers "warm," with payments made to prevent collapse.
Lengthy recovery
It will be years before the airline and aerospace industries recover.
Satyendra Pandey, the former head of strategy and planning for India's GoAir and now a commentator, provided LNA with his analysis of the impact of COVID-19.
In a recap, Satyendra noted:
1991's Gulf War resulted in a 7%-9% reduction in passenger demand;
2001's 9/11 terror attacks on the US caused a US recession, a 12% reduction in some markets and airline bankruptcies;
2003's SARS virus, which originated in China, caused a 20% decline in demand in Hong Kong;
2004's earthquake in the Indian Ocean and resulting tsunami caused reductions of up to 35% in the region; and
2010's Eyjafjallajokull volcano eruption in Iceland caused a reduction of 20%-30% in Europe.
Coronavirus "decimated" demand worldwide.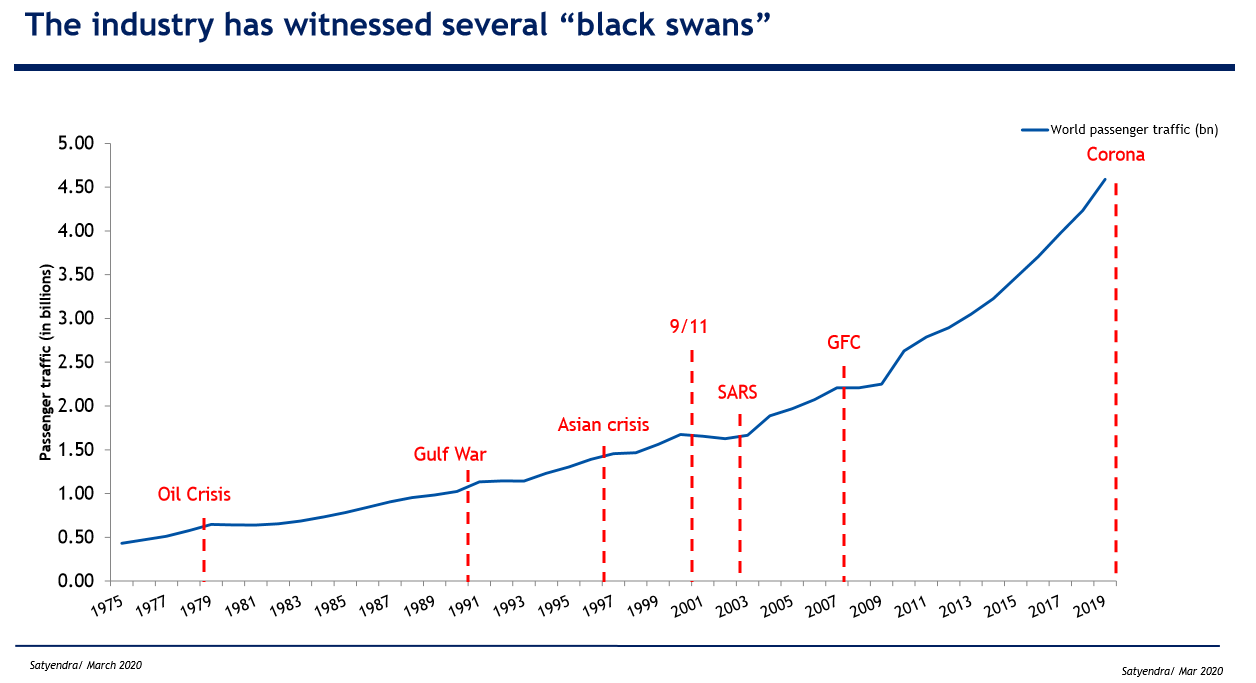 V, W, U or L recovery?
How long and what shape the recovery will be are two questions for which there are no easy answers.
Will the recovery be a sharp "V"? Will there be a recovery, followed by a second wave of CV-19 infections and deaths (as many suspect), followed by another sharp recovery, a "W"?
Will it be a prolonged dip, followed by a sustainable recover, a "U"?
Or will it be a long, slow recover in the shape of an "L"?
Satyendra looks at previous events and illustrates the recovery shapes and periods here:
Many airlines already indicated they will emerge from this crisis as smaller carriers.
At LNA, we believe recovery will be 4-8 years best case-worst case. Either way, the airline and aerospace industries are in for a long, painful period.