Subscription Required
Now open to all Readers.
By Scott Hamilton
Introduction
Aug. 17, 2020, © Leeham News: Coronavirus caused a spike in freight demand. But don't look for Airbus or Boeing to see a spike in demand for new build freighters.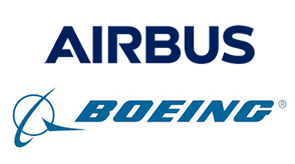 Boeing hoped to advance the timeline for the launch of the 777-8F. The original plan for the 777X family was entry-into-service of the -9 in late 2019 or early 2020. The 777-8 passenger model (8P) would follow by two years. The -8F would follow two years after that.
As the -9 EIS slipped to late 2020 and the 737 MAX grounding took its toll, -8 development was suspended. The -8P EIS was unofficially reset to 2024.
Now, the 777-9 EIS is rescheduled to 2022. Production of the 777 line is going to 2/mo. With freight demand spiking due to COVID and widebody passenger production not expected to recover until 2025, Boeing thought advancing the -8F launch could boost the X line.
It's not to be.
Summary
Boeing hoped to launch the 777-8F with 2024 EIS.
No market interest scotched the plan.
P2F conversions of 777-300ER gain interest.
Airbus hopes for A330-900F are dashed.
Discussion
No 777-8F anytime soon
Boeing needs the 777-8F to bolster the 777 production line. There are just 61 777 Classics in the backlog: 18 777-300ERs and 43 777-200LRFs. There are 309 orders for the 777X. Seventeen 777 orders now are classified as iffy, under the ASC 606 accounting standard. These are believed to be all Classics. Some of the freighter orders, for Hong Kong Airlines, are deferred to an indefinite date in the future, according to data.
The production rate is coming down to 2/mo next year. Airlines for the 777X are hit hard by COVID impacts. A recovery of international traffic not forecast until 2024-25 at the earliest.
Forward Loss warning
At a rate of 2/mo, Boeing warned in its 2Q2020 10Q quarterly filing the program faces the prospect of slipping into a forward loss position.
"The level of profitability on the 777X program will be subject to a number of factors. These factors include continued market uncertainty, the impacts of COVID-19 on our productivity as well as impacts on our supply chain and customers, production rate adjustments for other commercial aircraft programs, and potential risks associated with the testing program and the timing of aircraft certification," Boeing wrote. "One or more of these factors could result in a reach-forward loss on the 777X program in future periods."
Launching the 777-8F requires a one-time investment to finalize the design, undertake flight testing and certification and tooling for the cargo configuration. Strapped for cash and suspending most R&D spending, Boeing in the past partnered with the engine makers. GE Aviation is the sole-source engine provider for the 777X. Its funds are limited due to its own financial issues, pre-dating COVID. And neither would invest on speculation.
But, according to market intelligence, Boeing could not interest the leading contender to launch the program, FedEx, in the -8F. This intelligence indicates FedEx thought Boeing's price was too high (and Boeing though FedEx's counter was too low). The key: Boeing wanted a 2024 EIS and FedEx didn't want it until 2026. A later EIS would not help Boeing's production rate need for the 777 line.
No A330-900F
Airbus last year was showing a concept for a freighter version of the slow-selling A330-900neo. UPS was a principal target.
But, according to the market, UPS had no interest in the airplane.
It's become moot anyway in the aftermath of the COVID crisis. Airbus froze all R&D spending except on the A321XLR. There now is no money to develop the -900F.
Plethora of 777-300ERs
With COVID prompting a worldwide grounding of airplanes of all types, there suddenly is a plethora of 777-300ERs now parked. Approximately 150 of all vintages were taken out of service.
The market was waiting for the right time to launch a conversion program for the -300ER. Prices of used airplanes needed to fall and adequate feedstock was required.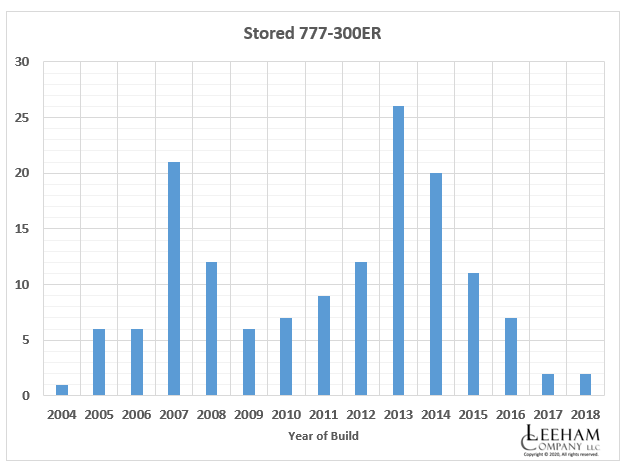 Boeing Global Services pondered a P2F program in 2018. Mega-lessor GECAS and Israeli Aircraft Industries (IAI) announced a P2F program in October 2019. Entry-into-service is targeted for 2022.
GECAS owns 19 -300ERs, according to a data base—all in service as of last month. GECAS committed to convert 15 of them with an option for 15 more. It is jointly funding the P2F program with IAI.
The program, launched before the COVID crisis erupted, reflects the wide expectation that there will be little secondary market for the -300ER upon retirement or lease returns.
Post-COVID grounding, residual values of the -300ER fell by more than a third, according to Ishka, a UK-based appraisal company. This drops the estimated value of a 10-year old -300ER to the mid-$40m range. A 15-year old model is around $30m.
The conversion price is quoted at $30m but discounts are likely. This compares with a list price of the 777-8P of $410.2m. A freighter will list somewhat higher. Sharp discounts will apply.
With a sharply lower price, including capital and conversion costs, the -300ER will be a strong competitor to the -8F. Furthermore, the -8F is slightly smaller than the -300ER.
The lengths of fuselages of the Classic and X airplanes are:
777-300ER:   73.08 m
777-8P:          68.27m
777-8F:          69.34m
777-9:            75.21m
The -300F will have more cargo space.
New vs Old
These aren't the only considerations of choosing new or old, converted airplanes.
Jim Edgar, a former Boeing freighter specialist who now consults with Air Cargo Management Group (Cargo Facts), told LNA, "New-build freighter demand is primarily from those that can justify the significantly higher capital cost requirements by (1) carrying higher-yield traffic (eg. express/e-commerce) and/or (2) can utilize their freighters at daily rates approaching passenger carriers (selected specialty all-cargo and combination carriers).
"Also, factor in the predominance of conversions among smaller payload freighters (less to amortize new-build freighter cost) and you have the primary drivers of new vs. converted."
Edgar also said that lower-hold capacity is still hovering around only half its pre-virus levels and resulting reliance on freighters, further complicating considerations.
FedEx, UPS, Amazon and DHL are growing while general air cargo carriers are turning-in much weaker results, Edgar said.
Amazon, which at points in 2018 and 2019 were rumored to be interested in placing a large order for new-build Boeing 767-300ERFs, continues to rely on ACMI operators flying used 767s and more recently converted Boeing 737-800Fs.
Conclusion
The 777-8F and A330-900F are non-starters for the foreseeable future.
The new-build 777-200LRF is Boeing's best, current bet for the production of the 777 line.
Other widebody main deck freighters will be conversions of the A330-200 and the emerging 777-300ER P2F.