By the Leeham News team
Oct. 27, 2020, © Leeham News: Boeing's 737 MAX may be nearing recertification and airlines worry about passenger acceptance.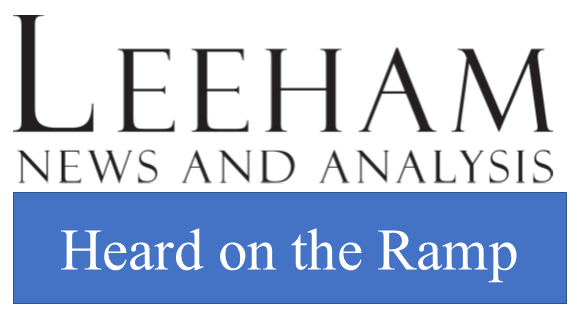 But Boeing's larger MAX problem is its general product line-up.
LNA pointed out the poor sales of the 7 MAX in the past. We've also compared the lagging sales of the 9 MAX and 10 MAX compared with the A321neo.
As a result of the MAX grounding and now COVID-19's disastrous financial impact on airlines around the world, more than 1,000 orders have been canceled or reclassified as iffy under the ASC 606 accounting rule.
Airbus doesn't publicly reclassify the European equivalent of ASC 606. But LNA in July estimated how many A320s would be similarly classified. At that time, about 425 appeared to be similarly subject to ASC 606 if this accounting rule was applied to Airbus.
Backlog Market Share
Adjusting for ASC 606 and indefinitely deferred orders, based on data obtained by LNA as of Oct. 1, Airbus now has a 61% share vs the Boeing 39% in the competition between the A320 and 737 families.
Airbus also continued deliveries of the A320 throughout the MAX grounding. There are reduced deliveries through the COVID pandemic.
The MAX backlog market share declines to 35% when all current and planned aircraft in the 125-220 seat single-aisle sector are included. The additional aircraft are the Airbus A220-300, COMAC C919, United Aircraft Corp. MC-21 and the Embraer E195-E2.
The erosion of Boeing's position in the 125-220-seat sector is an alarming, long-term problem that can only be remedied with two new airplane families: one in the 125-165 seat sector and another for the 180-240 seat market.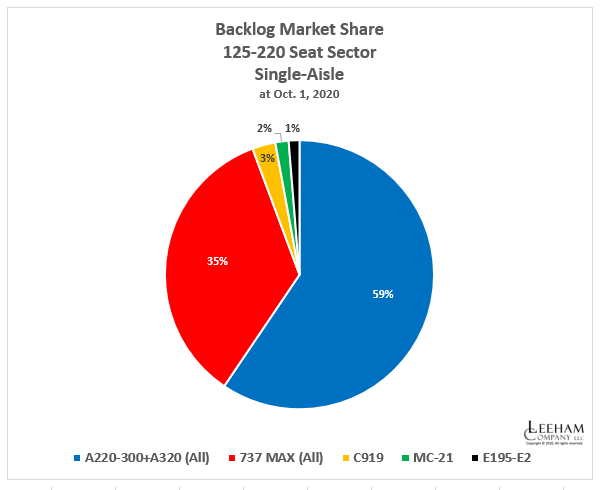 With the collapse of the Embraer joint venture in April, there isn't an obvious solution for the smaller sector. Embraer was to be responsible for this segment.
MAX RTS
Southwest Airlines said on its earnings call this month it will take 3-4 months to return its 737 MAXes to service after the plane is recertified.
The airline must train 7,000 pilots for the MAX. It has 34 MAXes that were flying when grounding was ordered. These must have maintenance performed to bring out of long-term storage. There are also 34 MAXes that have been built but not yet delivered. The latter will replace 737-700s.
Southwest, which exclusively operated the 737 since inception in 1971, is evaluating the Airbus A220 and 737-7 for a large, future order, probably from 2025. The airline has 30 7 MAXes on order and rescheduled 23 of them into the future well before COVID. The need to replace 737-700s is huge. Southwest sees eventually splitting the replacement about half with 737-8s and the rest with a 150-seat airplane.