By the Leeham News team
Nov. 10, 2020, © Leeham News: Pfizer yesterday announced it's on track to produce a COVID-19 vaccine that appears to be 90% effective in trials. The company is one of the world's leading drug makers.
This is good news.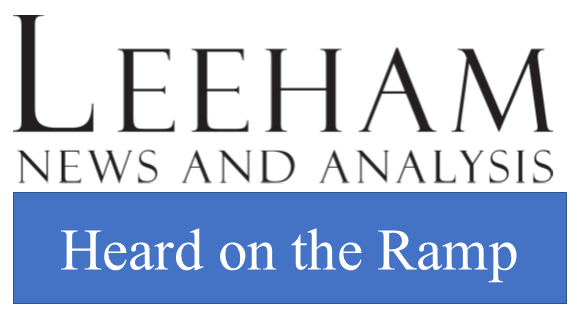 But before jumping to the old cliché about a light at the end of the tunnel, LNA's Judson Rollins cautions, do the math.
"Read the fine print at the end of the press release," Rollins says.
"Based on current projections, we expect to produce globally up to 50m vaccine doses in 2020 and up to 1.3b doses in 2021," the press release says.
"It's a two-dose vaccine, so divide by two to figure the number of people who could be immunized," Rollins says. "Even if a second candidate is approved and can be produced in the same quantity next year, that means just 17% of the world's population will be vaccinated. And that assumes everything goes according to plan."
Rollins did an extensive analysis of how quickly global air traffic would return to normal. In his July 13 post, Rollins projected that traffic won't fully recover until 2024 at the earliest or 2028 at the latest. It all depends on how quickly a vaccine was developed, how quickly it could be distributed globally and how quickly people had confidence in it.
"We're in only the second or maybe third inning of a very long ball game," Rollins says. "Vaccines kill off a virus by denying it bodies in which to reproduce. If you don't innoculate enough of the population while immunity lasts, you're back to square one."
Main deck freighter demand
There was one notable exception to the soaring wave in aviation-related stock prices after the Pfizer announcement. "Stunningly, Atlas Air stock fell 14% on expectations that [passenger aircraft] belly capacity is coming back and will supplant freighter demand," Rollins added. "Did investors forget that freighters will be needed to transport all those refrigerated vaccines?"
MAX recertification
The Federal Aviation Administration appears ready to recertify the Boeing 737 MAX as soon as next week—Nov. 18, in fact, Reuters reported yesterday.
The MAX was grounded globally March 10-13, 2019 following the fatal crashes of two 8 MAXes, in October 2018 and March 2019. Three hundred forty-six people died in the two accidents. Europe's EASA previously said it expects to recertify the plane later this month. Transport Canada and Brazil's regulator—rounding out the Big Four in the recertification process—haven't said when they may act.
China's CAAC was the first regulator to ground the MAX. The agency has been mum on its plans. But with China, politics often trumps everything. A trade war with the Trump Administration may influence China's actions.
Morgan Stanley caution
Meanwhile, Morgan Stanley yesterday cautioned that Boeing could lose more orders for the MAX. An analysis notes that 29% of the MAX orders are common with Airbus A320 family customers. If, because of COVID, there is an oversupply with customers, Morgan Stanley believes Boeing could be hit with cancelations rather than Airbus.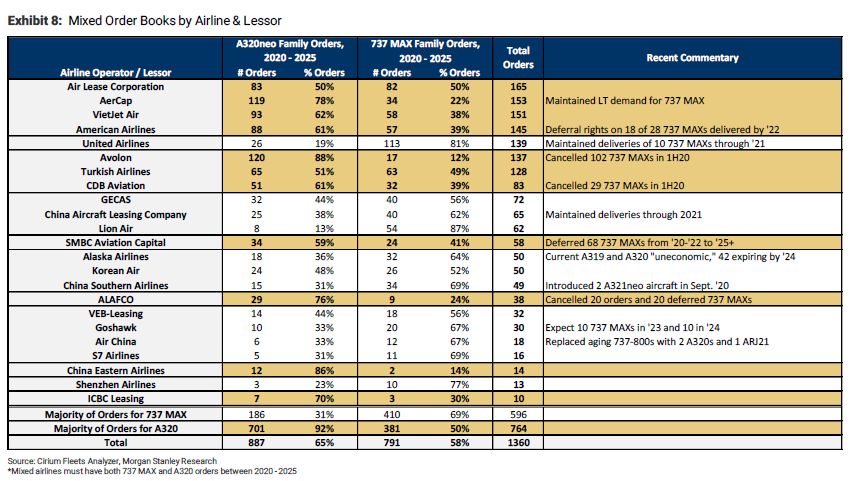 This is because scores if not hundreds of MAX orders are now delayed by 12 months or more. Twelve months is when most orders may be canceled without penalty.
However, LNA previously noted that this is typically on a rolling basis—not for an entire order.