June 14, 2021, © Leeham News: One of commercial aviation's most influential leaders said last week Boeing needs to replace the 737 with a new technology airplane.
Steven Udvar-Hazy, chairman of Air Lease Corp., said in a CNBC interview June 9 the 737 is a good airplane, but the time has come for a replacement.
"Boeing has to look at the future. What kind of airplanes that airlines will need with all the environmental challenges, regulatory challenges? What is the airplane type airlines will need 5, 10, 15, 20 years from now?" Hazy said.
"Boeing needs to invest. The 737 is a wonderful airplane, but it's been in operation since 1967. We have an airplane that its basic design has been around for 54 years. It's time for a new technology airplane that will give airlines and the public greater efficiency, better economics, better environmental footprint so the airlines can make money with it and yet meet the challenges that we're facing on the environmental front."
Boeing lost its leadership role
Hazy also said Boeing lost its leadership role in the industry to Airbus.
"I think the biggest issue I see looking back 20 years is Boeing used to be the leader, introducing airplanes like the 747, the Triple Seven, the 787. I feel like in the last five or six years, they've allowed Airbus to spend more money on R&D and basically take market share away from them, particularly in the narrow body, the single-aisle family. The combination of the A320neo and the A321neo has really dented Boeing's market share on 737s. That's the bread and butter airplane for Boeing."
Hazy lamented Boeing's performance over the last 2 ½ years. The 737 MAX was grounded for 21 months. The US Federal Aviation Administration recertified the airplane in November, but not all jurisdictions followed suit. China and Russia, Hazy said, still haven't authorized the MAX's return to service.
Then, shortly after the MAX reentered service, it was grounded again, this time by Boeing, with the discovery of a technical concern found in production. This was resolved within a few weeks.
Deliveries of the 787 halted in October over production issues at the Charleston (SC) plant. Deliveries resumed at the end of March before being halted again by the FAA while related paperwork issues are reviewed. None has been delivered since then.
Changing leadership isn't fixing the problems
Hazy clearly wasn't impressed with the leadership changes at Boeing.
"You can change line up and the orchestra, but if the music doesn't sound good to the audience, it doesn't matter. Changing people just for the sake of changing leadership titles is not going to solve the problem," he said.
ALC has had "professional" but "very open" discussions with Boeing that "this is not the Boeing we know."
"They've got to get their production systems in line. They've got to improve quality control. They have to meet their promises. Boeing has let down a lot of its customers. I think they're working very hard and putting a lot of resources on getting back on track but it's been a very, very difficult last two-plus years with Boeing," Hazy said.
Boom's price-per-seat
Boom—the developer of the Overture SST—has a price of $200m for its aircraft. The CEO says he's not discounting the airplane. I can't imagine United or any other airline paying retail for a jetliner, but let's set this aside for the moment and assume this is true.
One measurement airlines consider when buying airplanes is the price per seat. By this metric, Boom's Overture is way, way out of the norm.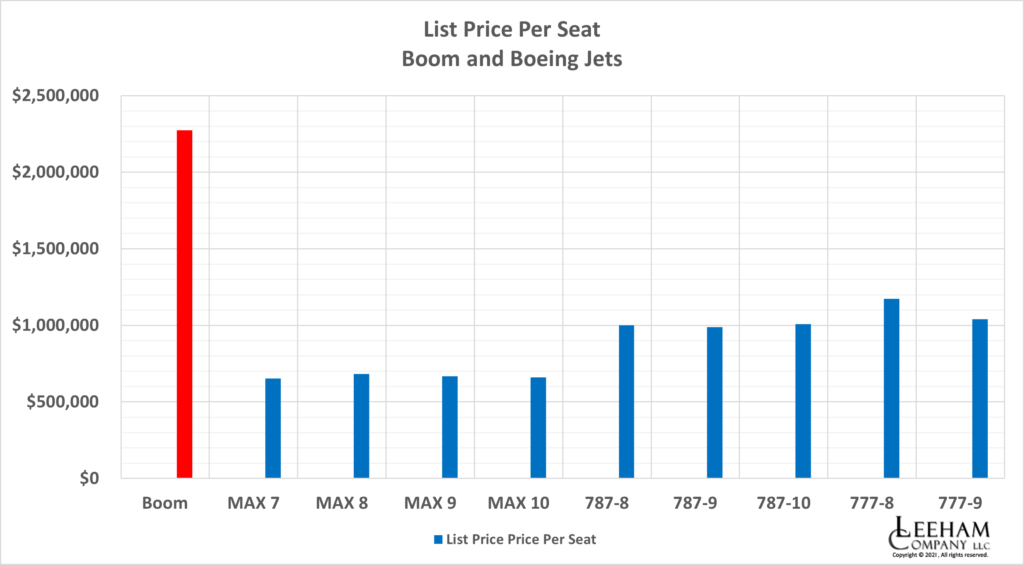 Airbus no longer publishes list prices. Boeing's 2020 list pricing is available. So LNA compared list prices and the standard, two-class seating Boeing lists for its aircraft. Boom's seating is now 88 (it began at 55).
On this basis, Boom's price per seat is nearly $2.3m. Boeing's most expensive price per seat airplane is the 777-8, at nearly $1.2m
In reality, Boeing's actual sales price is often discounted 50% and sometimes as much as 60% to the list price. The per-seat gap increases dramatically in real-real aircraft acquisition.
There's really not much more to say, except for this: Cirium has a devastating analysis on the market demand for an SST. And it's a lot less than Boom suggests.