Aug. 23, 2021, © Leeham News: Could Embraer's new turboprop design have formed the basis for the 100-150 seat Boeing single-aisle aircraft had the joint venture proceeded?
A former Boeing engineer thinks it might have.
The aft-mounted, open rotor engines and the ability to switch later to hydrogen fuel represent the kind of advances Boeing could use to restore its leadership role in commercial aviation.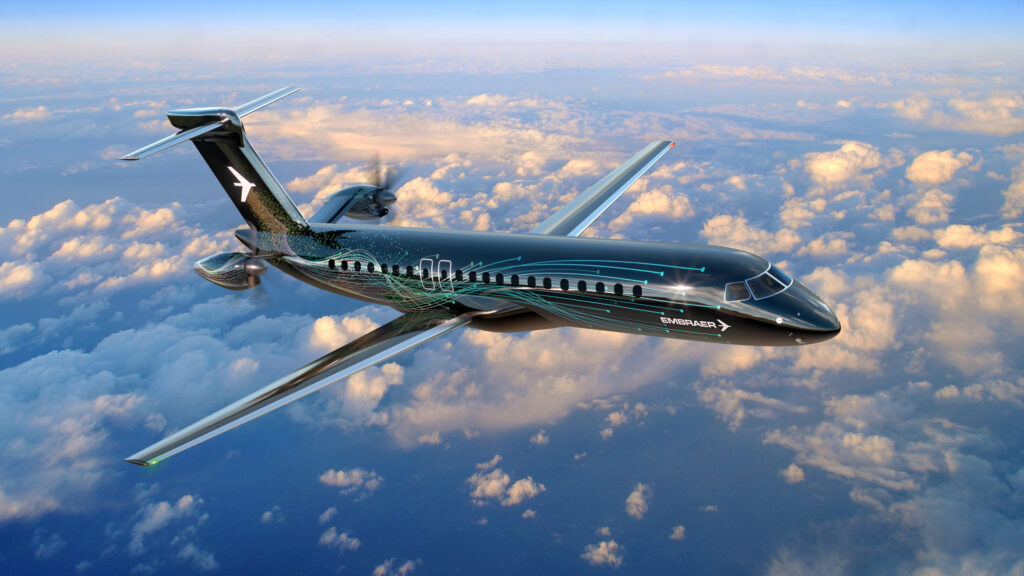 Under the proposed JV, which Boeing ash-canned in April 2020, Embraer would have been responsible for development of the 100-150 seat aircraft Boeing needs to replace the 737-7 and 737-8.
Product Development
The 737-8 is a 175 seat aircraft in today's typical two-class configuration. Configurations today effectively push the 150 seats to nearly 170 seats.
Legacy Boeing would concentrate on the larger aircraft sector, i.e., more than 180 seats, under the JV. This jump represents the typical up-gauging from one aircraft type to another, even within family members.
Boeing CEO David Calhoun for more than a year said the Next Boeing Airplane (NBA), envisioned in public discussions as starting at 225 seats, would be more about production efficiencies than engine advancements. Fuel economic, and with it, reduced emissions, would fall within the 10% range rather than 15% or more as in recent developments, he said.
But with the announcement by CFM that it's working on an open rotor engine in earnest, called RISE, Calhoun's recent statements hedged his earlier ones.
RISE could be the basis on which the 737 replacement might be developed.
737 Product Future
There are 3,314 737s in Boeing's backlog (adjusted for the accounting rule called ASC 606). Boeing doesn't break out sub-types, but based on publicly announced orders, LNA thinks the 737-8 represents about 75% of the orders and the MAX 7 nearly 8%.
On the assumption that the NBA will focus first on the MAX 9/10/Airbus A321neo sector, the question remains: what does Boeing do about the so-called "heart of the market" represented by the 737-8/Airbus A320neo? One can argue that a step-change is needed, beyond production efficiencies.
Embraer's design presents interesting possibilities for Boeing to follow. Unfortunately for Boeing, it won't have Embraer's resources to use.