Boeing has notified is supply chain that demand for the 737 is sufficient to support a rate increase to 52 a month by the end of the decade.
In a letter dated January 3, Kent Fisher, vice president of supplier management, set the date for going to 47/mo in July 2017. The year had previously been announced by Boeing. Fisher continued that demand is "sufficient" to take the "protection rate" to 52/mo "later in the decade."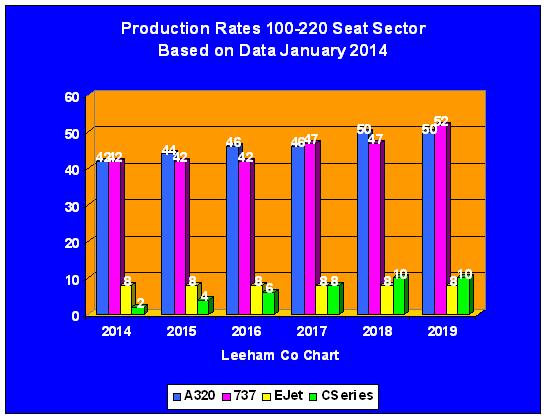 "Protection rate" means the Boeing and the suppliers need to protect the ability to increase to the desired rate in terms of tooling, machinery, parts, and their own suppliers. This notification isn't as firm as announcing an actual production rate increase, but it's pretty close.
Airbus, meanwhile, continues with construction of its Mobile (AL) plant, with a target operational date of next year. Initial production will be 2/mo, ramping up to 4/mo. The plant has the capacity of 8/mo. This means Airbus increases production of the A320 family to 44 in late 2015 or early 2016, then 46 later in 2016 and 48 to 50 thereafter.
The Airbus and Boeing production rates dwarf those of Bombardier, which is challenging the Big Two OEMs at the lower end of the 100-220 seat sector with the 110-145 seat CSeries, and Embraer, which produces the 100-122 seat E-190/195 E1 today and which is offering the 132 seat E-195 E2 for delivery beginning in 2018.
Airbus' factories are in Hamburg, Toulouse, Tianjin and from next year, Mobile. Hamburg and Toulouse are currently producing 38 A320 family members a month, weighted toward the latter, and Tianjin is at 4/mo. Tianjin and Mobile have the capacity of 8/mo each; we don't know the total capacity of the Hamburg and Toulouse plants but are told these are at capacity; Airbus declined comment. This means Airbus has the capacity to go to 54 A320s/mo among the four plants after Mobile is fully operational.
Boeing has the capacity for 63 737s a month at its single Renton (WA) factory. Embraer has the capacity for 17 E-Jets a month. Bombardier plans a capacity of 20/mo for the CSeries.