Emirates' 615 seat A380, is it more economical?
By Bjorn Fehrm
Subscription required.
Introduction
Nov. 11, 2015, ©. Leeham Co: Emirates Airline showed off its newly delivered two class A380 at this week's Dubai Air Show. With a record 615 seats, this is the densest A380 that has been delivered by Airbus.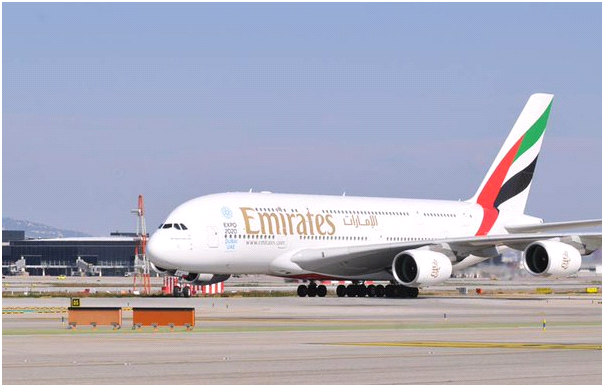 Emirates have reached this record seat number by replacing the first class cabin (and showers) with economy seats. Part of the business area has gone as well. What remains on the Premium side are 58 of the well known lie-flat seats and the ubiquitous Emirates bar.
The aircraft is aimed at high density destinations which are reached within a 12 hours limit, therefore the aircraft has no crew rest facilities.
The question is, what improvements in seat-mile costs does this configuration bring and how does it stack up against a similarly configured Boeing 777-300ER or 777-9?
Will there be a change in the economical pecking order compared to the more classical long range configurations that we looked at December last year?
We used our proprietary performance model to find out.
Summary:
To be fair to all aircraft, we equipped them with similar high density two class cabins.
We also kept the ratio of business-to-economy seats the same for all cabins.
The result is high capacity workhorses that are used for flying passengers and cargo at sector lengths of up to 12 hours. Consequently, none of the aircraft have crew rest facilities.
We then looked at fuel efficiency, Cash Operating Costs and Direct Operating Costs for these long-haulers now given a mostly mid-haul work scope.
To read the rest of the article Login or Subscribe today.
Category: Airbus, Boeing, Dubai Air Show, Emirates Airlines, Premium
Tags: 777, 777-300ER, 777-9, 777-9X, 777X, A380, Airbus, Boeing