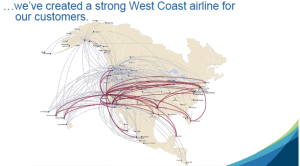 April 4, 2016, (c) Leeham Co.: Alaska Air Group and Virgin America confirmed weekend reports that they reached a deal to merge.
The replay of the Alaska webcast/conference call, with slide show, is here.
Rationale includes what LNC outlined in our March 29 post: growth, access to more gates and slots. Alaska officials said Virgin's presences in California, combined with Alaska, will give Alaska to #1 market share position on the US West Coast, passing Southwest Airlines' 21% by one percent.
Here are some highlights from the conference call:
Alaska mainline exclusively flies the Boeing 737 and all its future orders are 737s. Virgin American, on the other hand, is exclusively Airbus A320 Family.
"We are big believers in single fleet, so much so we bought another single fleet," says Alaska, an official joked when asked about the divergent fleets.
A decision whether to retain Airbus fleet is probably a couple of years away. A320neo order with 2020-2022 deliveries, has "favorable" cancellation clause should Alaska chose to do that. The Seattle Times reports there is only a $26m cancellation fee.
The combined companies give Alaska access to gates at San Francisco and Los Angeles it can't otherwise get. It also gets slots on the East Coast it can't get.
The two companies will maintain their brands for at least a couple of years, while Alaska decides what to eventually do.
It will be a couple of years before Alaska decides whether to phase out the A320s operated by Virgin.
Virgin only owns seven or eight of the A319/A320 fleet. Leases begin rolling off from 2020, making it easy then for Alaska to dispose of these aircraft.
Alaska will take on $2bn in debt to pay for the deal, a cash purchase to Virgin shareholders at $57/share. Alaska will slow the current share buyback program through 2017. Wall Street didn't like this news. Initially Alaska stock was off more than $4/share (>5%) in post-announcement trading.
The merger has to clear regulatory hurdles.
The Seattle Times has a long story here.