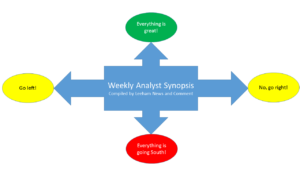 July 20, 2016: Aerospace analysts had somewhat different takes on the commercial aviation portion of the Farnborough Air Show. This week's analyst synopsis includes some of the analyst reports. Between now and the end of the month, earnings season begins reporting the second quarter results. Airbus reports July 27. So does Boeing. Bombardier and Embraer report after July.
Bernstein Research
Airbus, July 19, 2016 (Outperform)
Airbus: Q2 Preview- Slow Deliveries on New Programs in H1; Expect 2016 FY Targets Achievable
Airbus will report earnings for Q2 2016 on July 27, 2016.  
Our target price remains €72.
A320neo and A350 deliveries were still slow in Q2. Engine delivery issues, which are improving, continued to impact A320neo deliveries in the period. Interior issues are still challenging A350. The company reiterated full year delivery targets for each, though.
Narrowbody demand remains strong, ramp concerns center on supply chain. A320 family orders were healthy at Farnborough. The backlog is nearly a decade worth of production, which supports the current ramp underway to 60/month in 2019. Widebody demand looks incrementally weaker. Few orders for A330 and none for A380 at Farnborough are concerning. Pricing pressures on A330 are starting to materialize. Airbus is not pursuing either the A350-2000 stretch or A380neo at this time.
Airbus announced A380 deliveries will go to 12/year in 2018 (from 27 in 2015), due to a lack of new orders. Considering the alternatives, we think this rate decision was the best choice, but may be a slight drag on 2018 earnings depending on ability to maintain breakeven. Other businesses. Weak end markets impact Helicopters, and we expect an A400M charge.
Investment Implications
Our Outperform rating reflects retirement of significant risk in the A350 ramp, earnings growth from higher production rates A320 and high growth in free cash flow from 2017. We have a positive outlook for the commercial aircraft cycle and rising production rates.
Buckingham Research
Weekly Insight, July 19, 2016
Speaking with investors at the Farnborough, most were not surprised by Airbus lowering A380 production rates to 1/mo. Investors also weren't surprised by the lack of orders, or the overall negative tone of the show. Depending when Airbus actually lowers A380 production rates, we estimate the lower A380 rate for HXL could reduce our 2016E EPS by up to ~$0.02 to $2.53 from $2.55 and reduce our 2017E EPS by $0.04 to $2.90 from $2.94. We also think that HXL's goal for $3B in sales by 2020 may be revisited on the 2Q16 call this Thursday. Although Spirit AeroSystems (SPR; NEUTRAL – Tgt $44) has some content on the A380, we don't see the rate reduction having any impact on earnings considering its low shipset value at ~$1M.
Goldman Sachs
Farnborough recap, July 15, 2016
Slowest air show for orders since 2009
The 2016 Farnborough Air Show saw very slow new aircraft order activity, especially for Boeing. We think this is important given new aircraft supply today is at an all-time high, and about 20% of the average year's orders come from the air show (relatively even percentage of the year for Farnborough compared to Paris over time). We continue to see reasons for new aircraft demand to keep slowing, and for Airbus to take share from Boeing.
Farnborough 2016 concluded with 182 total firm orders combined between Boeing and Airbus. Boeing had only 36 firm, and 16 of those were 747-8, which does not move EBIT. This was the lowest level of overall orders at an air show since 2009. Widebody was weak and particularly concerning. There were no 777 orders and only seven 787 units ordered – two aircraft types critical to Boeing cash flow, and where we have the most concern on forward production. Boeing was much weaker than Airbus, in total.
Boeing falling behind Airbus
Boeing reported 36 firm orders and 100 commitments, compared to 124 and 197 last year in Paris. Airbus reported 146 firm orders and 144 commitments (compared to 124 and 317 last year). Airbus continues to take share from Boeing. It has been especially successful with the A321neo, where it booked another 100 firm orders at the air show. The A321neo backlog is now over 1,200 units compared to Boeing's 222 for the 737-MAX-9. We believe this overall product portfolio differential is a major factor driving Boeing to consider costly new aircraft development.
JP Morgan
Farnborough recap, July 14, 2016
Little support for sagging widebodies. The widebody market saw few orders, including no progress filling the 777 bridge, a steeper A380 cut than anticipated for 2018, and continued cautious commentary on widebodies from Boeing.
The impact of the A380 cut on U.S. suppliers should be modest, but the one we are watching most closely is BEAV, given the size of the aircraft's premium cabin. For example, we believe BEAV provides 14 super first class seats for each Emirates A380. On 777, Boeing has taken 8 net orders YTD vs its target of 40- 50, and opportunities for later this year are likely focused on China, with a possible contribution of 15 777-300ERs from Iran, though rapid progress on closing Iranian orders is looking less likely.
No Boeing response to A321neo just yet. Management says it has time to decide and continues to consider a new middle-market aircraft and a 737 MAX 10. For most suppliers, it was too early to discuss a potential middle-market aircraft for 2025, though given the ~$70m price mentioned in the press, supplier profitability would likely be tight. Structures is an obvious focus within the supply chain as a middle-market aircraft would be Boeing's first clean sheet plane since divesting Spirit in 2005. The good news for Spirit is that with 200- 270 seats, the middle-market aircraft discussed in the press is too big to fully replace the 737; however, content on a new aircraft gives Boeing leverage in price negotiations with Spirit for legacy products. It would be a key opportunity for Triumph as well, which has been starved for growth, and a new plane would also raise questions about insourcing at Boeing. Prospects for a race to the bottom on structures pricing are worth monitoring, but for what it's worth, we believe companies are attuned to the risk.
Morgan Stanley
July 19, 2016
A "Middle of the Market" aircraft could work as long as it doesn't disrupt the cash flow narrative. Following the Farnborough Air Show, there has been increased discussion around Boeing developing a new "Middle of the Market" plane. Simplistically, the current in-service fleet of passenger aircraft for 201-270 seats should broadly capture this market and we view it as a potential read on longer-term sales. A new product launch could support the backlog by generating launch customer orders, though our focus will be on disciplined development following the 777X, thus preventing an uptick in capex or R&D (unlike the 787) and supporting the above-average FCF narrative (~10% a year). While [Boeing] continues to study the market and talk to customers, our view is that the likelihood may be rising per the recent success of the A321 at the lower-end of the market.