Introduction
Jan. 12, 2017, © Leeham Co.: There are a growing number of articles around the Emirates airline that points to recent weaknesses in the airline's operating model. Here are just two:
We decided it was time for a deeper look at this locomotive from the Arab Emirates. Is Emirates in trouble? How solid is it?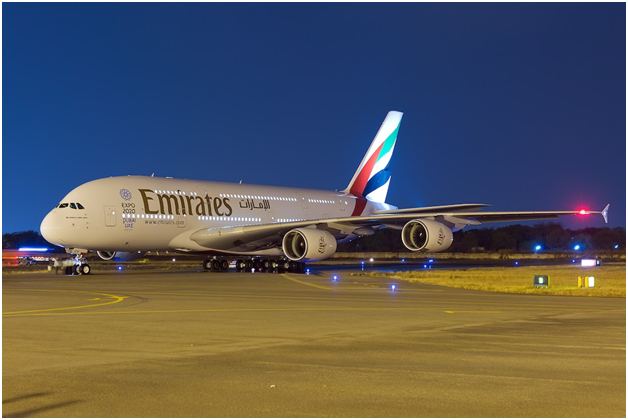 We studied the economics for the last decade and took a deep look at the fleet needs, including, has  Emirates committed to too many aircraft being delivered over the next several years?
They have just deferred Airbus A380's for the first time. Used to be they could not get them fast enough?
Summary:
Emirates has been profitable since start 1985.
Its unprecedented growth in revenue and passengers has slowed down.
The low fuel price has kept profits up for now, but yield and load factors are down.
With a flexible fleet structure and a strong balance sheet Emirates has a strong position to weather any storm going forward.
Discussion
Emirates' operations
Emirates started airline operations in October 1985 with a couple of wet-leased aircraft (one Boeing 737-300 and one Airbus A300B4-200) from Pakistan Airways. Since then, the growth of this all-widebody airline is one of the world's outstanding success stories. Last year, the airline transported 50 million passengers between 150 cities in 80 countries.
Figure 1 shows the progress of the airline in recent years. It has doubled its passenger numbers and revenue since 2009.
The growth rate in passengers and revenue has been 13% per year over this period, until fiscal year 2015 when revenue stopped growing.  Emirates has seen years of lowered profits (red arrows) but has not reported losses in its history.
Despite a decline in revenue, the net profit did not stop growing in the last reported fiscal year from April 2015 to March 2016. We will call this 2015/16 going forward.
The increase in profits was due to the lower fuel costs in the period. Figure 2 gives a more detailed picture about airline operations during the period since the GFC.
Yield, which is Revenue per Tonne Kilometer, RTKM (here in fils per Tonne Km. There are 100 Fils to a Dirham, which is worth ~$0.27) has declined during 2015/16 and should have declined further since. At the same time, cost has been the lowest since 2008/9 (unit cost, fourth line from top).
More importantly, Emirates has stopped the cost increase excluding jet fuel (fifth line from top). Passenger load factor (here called Passenger seat factor) declined from 80% to 76.5% and could have declined a bit further during calendar 2016.
This is due to an expansion of Available seat kilometers by 13% last year at the same time as the passenger seat kilometers increased by 8% between 2014/15 and 2015/16. This decline in traffic growth is the background to Emirates now deferring delivery of six Airbus A380s from 2017 to 2018 and postponing delivery of another six A380s from 2018 to 2019.
Figure 3 gives a more detailed view of the breakdown of operating costs for Emirates.
Jet fuel is still the highest operational cost item but has declined sharply since 2014/15. Sales, Marketing and Corporate overhead have been cut since 2014/15.
Capital costs for aircraft are split between operating leases and amortization on money which has been used to acquire aircraft (finance leases and loans). If one sums these costs (where only 400m Dirhams are for non-airline depreciation/amortization), aircraft capital costs exceed employee costs and becomes the second most important cost factor after fuel.
If one compares the Emirates' cost per transported tonne kilometer of passengers with that for a major competitor on the worldwide long-haul market, the Emirates cost would be $0.36 per TKM versus $0.70 for British Airways during the 2015/16 period.
The revenue has a good geographical spread with Europe and Asia as the strongest markets, Figure 4.
Emirates' financials
Emirates has been profitable since start. In recent years, the return on capital exceeded 10%, with a record 24% for the year 2015/16, Figure 5.
The profitable operation has enabled a steady cash flow with cash asset of 20bn Dirhams end of 2015/16, Figure 6.
The strong cash generation has given a healthy margin once all debt related costs have been paid, Figure 7.
The consistent generation of profits has left a strong balance sheet, Figure 8.
With cash and current assets of 31.4bn Dirhams out of total assets of 119.2bn Dirhams and a fleet asset, which is to a large extent on operating lease (Figure 9), the capability to weather tougher times is there without having to borrow from the Dubai state.
Fleet Analysis
An analysis of Emirates' in-service fleet and the aircraft on order shows that the airline has great flexibility to retire or retain airplanes, to shrink (an unlikely event), maintain a steady level or grow its fleet.
More than half of the 777s are leased, either through traditional operating lessors or via special purpose companies.
Roughly half of the Airbus A380s are sourced from operating lessors or special purpose companies.
Emirates likes to "flip" its fleet between 12 and 15 years. LNC's analysis of fleet age and delivery dates for the 777s shows a close relationship to 777s that become 12 years old and scheduled deliveries of new 777 Classics and 777Xs.
Boeing 777s
The chart represents the number of aircraft that become 12 years old in what year (in blue) and the number of new 777s to be delivered in any given year (in orange.)
There is a close correlation in most years. This, combined with the flexibility of returning leased aircraft or parking owned aircraft, gives Emirates plenty of options to manage fleet growth consistent with profits and market demands.
A380s
The first A380 delivered to Emirates is a 2006 build. Because of industrial delays in the program, the initial delivery stream involved few aircraft. Accordingly, Emirates' A380s when they become 12 years old are fewer than the 777 fleet. Likewise, there is an order-to-12-year-old imbalance.
The A380s are clearly growth airplanes, with less ability to manage retirement-to-deliveries based on age.
The mix of lessors-to-ownership is also smaller, as noted above. But this doesn't preclude Emirates from simply parking and scrapping 12-year old A380s, as president Tim Clark once told LNC he was prepared to do, or deferring delivery of new aircraft.
The scrapping statement caused consternation with the A380 lessors, causing Clark to back off by the following June.
The current outstanding orders for the A380 clearly represent growth more than replacement aircraft.
Summary
Emirates is far from in trouble. What has happened it that the revenue growth has stopped and as we will see after March 2017, most probably also the profit increase. But the company can adjust its capacity through retirements of old fleet, parking owned aircraft or defer the entry of new planes into the fleet.
The balance sheet is strong, money is available for any actions needed to fill the aircraft that are flying, be it marketing or price cuts.
What has taken a pause is the unprecedented growth in top and bottom line of the financials. Passenger growth might also take a hiatus. If it does it will depend more on geo-political events than Emirates capability to generate interest for its offering.