By Bjorn Fehrm 
June 07, 2017, ©. Leeham Co: We wrote about Qatar Airways last week, the flag carrier of Qatar. One week later, the airline finds itself caught in a political crossfire.
The background to the crisis is complicated. At the root is a longtime feud in the area. To aid in understanding what is happening, we reference some background information and look at possible consequences for Qatar Airways.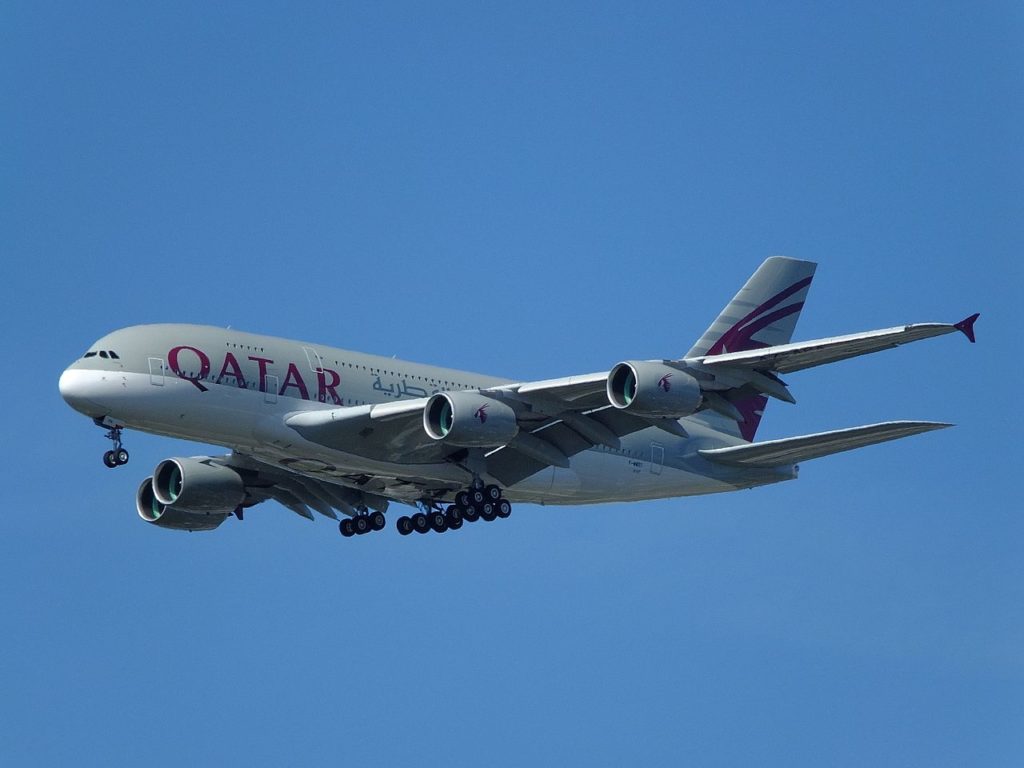 The Gulf crisis
The political crisis triggered Monday. Saudi Arabia, United Arab Emirates, Bahrain, Yemen and Egypt cut diplomatic relations with Qatar and blocked the country from flying through their airspace and to their airports (Figure 1). Qatar was also blocked from its only land access by Saudi Arabia. The official explanation is that Qatar is supporting terrorism.
The longer explanation is a bit more involved. Read about the background here (BBC article by Dr. David Roberts, King's College London, a Gulf area specialist) with this article describing the wider effects of the crisis.
Effects on the air traffic in the area.
The direct effect is that traffic from the blocking countries' airlines to or through Qatar's Hamad International airport has stopped. As have Qatar Airways flights to the blocking countries. To fly to Qatar from a blocking country you have to book a flight through Kuwait, Iran, Oman or any other non blocking country, and then change to a non blocking airline that flies to Qatar.
Effects on Qatar Airways
The effects on Qatar Airways depends on how long the crisis will last. As stated in the BBC article by Dr. Roberts, Qatar's position this time is weak, compared with the similar crisis in 2014 when it was stronger. This could mean a diplomatic solution could be found soon.
If not, it will be tough for Qatar and its airline. Looking at the Qatar Airways destination map (Figure 2), it's clear about half of its international destinations will have a longer flight path to handle.
Further, any flights on a Qatar Airways aircraft to one of the blocking countries will not fly. Flights from boycotting country airlines to Qatar will not fly as well. Qatar Airways can only operate local routes to Kuwait, Iran and Oman.
The Oneworld alliance flights with destination Doha will work, as will all transiting traffic to other non-blocking country airports. The effects on Oneworld flights with non Qatar Airways planes to blocking countries, which code-share with Qatar Airways, is not clear. Some third party airlines which transit through Qatar to a blocking country have stopped flights.
A more long term effect will be that passengers will shy away from booking with Qatar Airways. This is the strongest accusation to date of Qatar being connected with terrorism. Many travelers and corporate accounts could blacklist Qatar Airways.
Effects on Qatar Airways' fleet plan
Qatar Airways has an ambitious expansion plan for its fleet, Figure 3. The airline is accepting 16 Airbus A350-900 and three A350-1000 during 2017, out of an order for 80 aircraft in total (19 A350-900 delivered so far). Should the crisis drag on, one can expect deferrals of future deliveries.
Boeing has delivered 30 787-8 over the last years. There are no more on order, but 787-9 deliveries shall begin next year. Three shall be delivered 2018, followed by 22 during 2019. Once again, if the crisis drags on, these deliveries can be affected.
Qatar has also ordered 50 777-9 and 10 777-8. These deliveries start 2021, too far out to be affected by the present crisis.