May 9, 2018, © Leeham News: Etihad Airways faces a complex series of decisions to make as it ponders how to restructure and stem huge losses.
Market intelligence revealed last year that the airline has been pursuing a path to dispose of five Boeing 777LRs, 22 Airbus A330s, all its A340s and only a few A320 family members.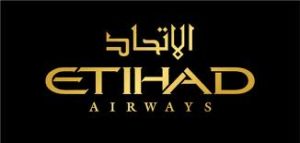 The company also wants to cancel or defer a variety of Airbus and Boeing aircraft on order.
The 777LRs are going back to its lessor. Bids from multiple parties came in for the A330s. The A340s were simply grounded.
But over-financing, credits for new airplanes on order used against newly delivered airplanes and return conditions complicate fleet restructuring plans, ballooning costs of some moves to a point where officials are having second thoughts about how to proceed.
In January, Etihad named a new chief financial officer, Mark Powers, whose long career includes stints at Frank Lorenzo's Continental Airlines and Northwest Airlines, where bankruptcies and financial restructurings were part of Powers' portfolio.
Powers retired from JetBlue in 2016. He has his work cut out for him.
Downsizing the fleet
Plagued by poor investment choices in troubled airlines, over-expansion and factors out of Etihad's control, officials began a contraction strategy last year that called for the removal of more than 30 aircraft from its fleet, nearly all wide-bodies. Focus was principally on passenger aircraft, but some wide-body cargo airplanes were also involved.
Etihad's dilemmas are as follows, LNC learned through market intelligence, beginning last year:
A330s: EY last year offered all its A330s for sale. Ridding this type would have simplified and modernized the fleet around the 787s. Multiple bids came in for the fleet, but upon further analysis, the return conditions value adjustments reduced the current market value of the airplanes. Coupled with over-financing, Etihad would take a huge book loss on disposal of the fleet. This effort has been put on hold for further study.
Deferring Boeings: Coupled with the A330 decision is what to do about orders with Boeing for the 787 and 777X. The 787 order includes the 787-10, the first of which is due for delivery this fall. Plans to dispose of the A330s were put on hold, despite receiving multiple bids, because Etihad also wants to defer or cancel Boeing 777X and 787 orders. The problem: credits from Boeing used in connection with some of these orders (believed to be the 777X) were applied toward the purchase price of the 787s. Canceling orders would require repayment, unless some accommodation were reached with Boeing. Deferring orders increases the price of the airplanes through escalation clauses.
Although EY previously rescheduled 787s (see Figure 1), so far 777Xs have not been deferred, according to a review of the Ascend data bases since 2016.
Airbus orders: Etihad has only A350s on backlog with Airbus.
As with Boeing, the airline rescheduled deliveries back-and-forth, according to Ascend dating to January 2016. In some cases, deliveries appear to be accelerated only to be reversed later.
The issues with Airbus are less clear than with Boeing, based on market intelligence. The airline has A350-900s and -1000s on order. Airbus' backlog for the -1000 is less robust than for the -900, leading to the conclusion that Airbus will be less willing to defer or cancel this model than it may be for the -900.
Wide-body demand
Airbus and Boeing continue to face soft demand for the larger wide-bodies. Boeing's sales for the 777X have been weak. So have sales of the A350 over at Airbus. This complicates any movement in the skyline at each OEM.
Boeing's demand for the 787 appears strong.
LNC first raised the prospect of turmoil with the Middle Eastern carriers in April 2017. Deferrals were already taking place.
Related articles