Update: This story is corrected.
July 21, 2017, © Leeham Co.: Lufthansa Airlines'  indications that it may reduce the order for 20 Boeing 777-9s underscores caution with which the program should be viewed.
Emirates Airline already rescheduled its first deliveries from 2020 to 2021.
The largest customer for the 777X, with 150 orders, EK is now pressured with falling profits, excess capacity and it's one of three Gulf airlines under attack by the Big Three US carriers for alleged violations of Open Skies pacts.
Mid-East Big Three a US target
Two other principal 777X customers, Etihad Airways and Qatar Airways, are also targets by the Big Three. Their complaints appear to be gaining some traction in the Trump Administration.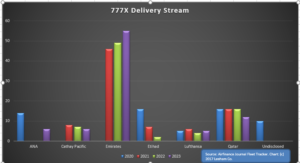 Etihad's investments in other airlines proved to be a failed policy, depressing profits. Qatar's latest financial reports indicate its profits were due to business transactions outside of its airline operations.
Over-reliance on Emirates
Boeing is fond of dissing the Airbus A380's over-reliance on Emirates and the A380's narrow customer base.
But Boeing is in a similar position with the 777X. Emirates alone accounts for nearly half the 777X orders. In 2021, 2022 and 2023, it accounts for the vast majority of production slots. In two of the three years, it's schedule to take delivery of more than 40 airplanes and in the third year, more than 50. This is 55% to 65% of the currently scheduled deliveries.
Add deliveries to Etihad and Qatar, and nearly all deliveries in these years go to the Mid-East Big Three.
Cathay Pacific Airways is under financial stress.
The Undisclosed orders are those going to Singapore Airlines. Along with ANA, these are the two financially stable airlines in the 777X customer skyline.