July 24, 2017, © Leeham Co.: The Japan Aircraft Development Corp (JADC) just published its 2017-2037 jet and turboprop forecast. JADC forecasts a demand for 33,336 jet airliners and some 2,000 turboprops.
JADC is partly owned by Mitsubishi, which is developing the MRJ70/90 and which is on several Boeing programs.
I like the JADC forecast because it segments the seating categories in more detail than Airbus and Boeing and somewhat differently than Bombardier and Embraer.
I also view JADC as having less of an axe to grind than the Big Four OEMs.
A couple of quick take-aways:
VLA still needed, NMA coming into focus
JADC still sees a need for more than 600 Very Large Aircraft (VLA), the more-than-400 seat category Boeing dumped in its 2017 Current Market Outlook. Airbus still claims a demand for some 1,400 VLAs. I'll talk about this more below.
There's a need for 1,900 jets in the 100-119 seat sector. This is solid Bombardier (CS100) and Embraer (E190) territory. Airbus and Boeing need not apply.
JADC segments the 120-169 seat sector, something neither Airbus nor Boeing does. This remains the "heart of the market," with a forecast of more than 13,000 jets.
The next step up, 170-220 seats, has a demand for nearly 6,400 jets, JADC says. This is about one-third of the primary single-aisle market.
The 230-308 and 310-399 seat sectors are broken out by JADC. Again, this is something Airbus and Boeing don't do—and with the New Midrange Aircraft for the Middle of the Market sector potentially around the corner, this data is important.
Turboprop demand fell year-over-year in the JADC forecast—and the 90-seater is gone.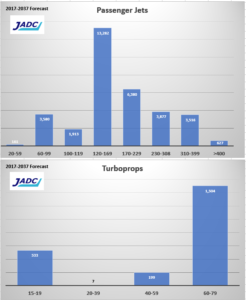 Very Large Aircraft
For decades, the Boeing 747 and later the Airbus A380 have been associated as "Very Large Aircraft." Boeing steadily reduced its forecast of the VLA category while Airbus largely kept its forecast between 1,200 and 1,700, depending on the year.
Boeing eliminated the VLA category this year from its Current Market Outlook. Airbus retains the category. In a surprise, Airbus told me at the Paris Air Show that its VLA forecast is not limited to the 747 and A380 but includes any aircraft delivered with more than 400 seats. Airbus cited as an example the A330-300 delivered to Cebu Pacific with 436 seats. It would also include the Boeing 777-300ERs delivered to Air Canada with 456 seats, an example not cited by Airbus but which qualifies under this definition.
The 777-9, nominally at 407-425 seats in three-class configuration, would be a VLA under the previous Boeing definition but for reasons that defy logic, Boeing refused to so categorize the 777-9, instead lumping it in with the Large Twin-Engine transport sector.
JADC retains the >400 category but its forecast is about half that of Airbus, at 627 jets.
Middle of the Market or Small Twin-Aisle
Boeing seems headed on a path to launch the so-called Middle of the Market airplane next year. It's generally defined as 220-270 seats. Boeing says the "Small Twin-Aisle" sector has a demand of 4,000-5,000 aircraft but refuses to publicly specify how much of this is for the MOM aircraft, also known as the New Midrange Aircraft or 797.
JADC's forecast defines the smaller twin-aisle as 230-309 seats—close to the NMA description, but not precisely so. Its forecast for this sector is 3,877 aircraft. It's logical to reduce this figure to more precisely fit the NMA definition, but by how much?
100-119 Seats
Another reason I like the JADC forecast is that it segments the 100-119 seat category. This fits nicely the Bombardier CS100 and Embraer E190. Neither Airbus nor Boeing offer an airplane in this category (take note, US Department of Commerce), nor at this point do Sukhoi or Mitsubishi offer an airplane in this size.
JADC sees about 1,900 aircraft will be required over the next 20 years in this sector. BBD and EMB should retain the lion's share of the market even as Sukhoi and Mitsubishi ponder entering this sector.
Turboprops: what 90-seater?
JADC eliminates the already small previous demand for a 90-seat turboprop from its forecast. It also reduces the total demand from last year.
The company sees the 60-79 seat turboprops (ie, ATR-72 and Bombardier Q400) absorbing the previous demand for 90-seaters (fewer than 300). Small jets will also take up the demand, such as it was.
The demand now filled by the ATR-42 is a miniscule 199 aircraft over 20 years, JADC forecasts.