July 19, 2018, © Leeham News, Farnborough: The engine suppliers for the Airbus A320 family are roughly keeping to their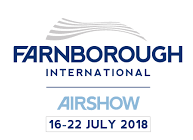 recovery plan designed to catch up late deliveries and fix technical problems, a top official said this week.
Guillaume Faury, is the new president and CEO of the Airbus Commercial unit in Airbus Group.
"We look at short-term, medium- and long-term. Short-term, we had an H1 (first half) that was OK for all programs, but the single-aisle was a difficulty with all the engines. We will have a very strong H2 and this is obviously very high on my agenda.
Fixing the engines
Faury said he's working very closely with the engine manufacturer, Pratt & Whitney and CFM, to catch up on fixes and production issues for the GTF and LEAP-1A respectively.
"All the other programs are doing well," he said.
Production ramp up
Faury said that production rates will go up; the question is how fast.
"The engine makers have proved to be more ambitious than what they were able to do. The main focus is on the engine makers, but it's fair to say we are ramping up for 50 to 60. They are ramping up from zero to 60," he said.
The new technologies on the CFM LEAP 1A and the Pratt & Whitney Geared Turbo Fan proved more difficult to "digest" than had been thought, he said.
Both OEMs have been late delivering engines to Airbus for installation on the A320 family. Both have had technical issues. In both cases, PW faces more challengers than CFM.
But Faury says both are more or less sticking to revised delivery schedules.
Strong demand
Faury said Airbus sees very strong demand for the single-aisle family, which as of July 1 also includes the A220—the airplane formerly known as the Bombardier C Series.
Preparing Airbus and the supply chain for A320 production rates of more than the previously announce 60/mo will be key to going higher.
For Airbus, going from 50 to 60 to 70 is not difficult, he said. The increases are incremental. For the engine makers, with new engines, their ramp-up is essentially from zero to 70, he said.
Safran, a 50% partner in CFM, currently warned it's not ready to go to 70/mo. It's running behind on delivering the LEAP 1A to Airbus and the LEAP 1B to Boeing, though CFM expects to catch up in the coming months.
Preparing for production rate increases and if and when the supply chain may be ready to accept the higher rates is a priority.
Three directions
"Looking forward, there are two or three important directions we want to follow," Faury said. One is digitizing and automation (robotics).
Another expanding Skywise, Airbus' production tracking and quality control system that extends to some of its suppliers, and data collection from the airlines. (More on this Monday.)
A third is accelerating reducing emissions and greenhouse gases.