April 11, 2019, © Leeham News: Conversation from the sidelines of the Aviation Week MRO Americas conference in Atlanta on Day 2:
Ramping the 737 production back up
Boeing already has its plans for ramping production of the 737 back up from the current rate reduction of 42 airplane per month.
According to the information here, this is the schedule for ramping back up:

Rate 42/mo, April and May;
Rate 47, June;
Rate 51.5, July and August; and
Rate 57, September.
Boeing originally planned to go to 57/mo in June or July.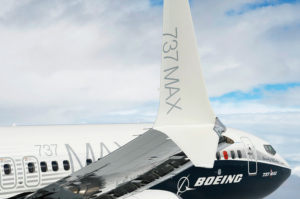 The rate was reduced from 52, citing the MAX grounding as the reason. But talk on the sidelines here suggests there may be another reason: continued slow engine deliveries from CFM.
Boeing is out of parking space at Renton Airport to store the grounded MAX. Around 20 airplanes have been flown to Everett's Paine Field. But without engines, planes can't be ferried. Without more parking space at Renton, there's no place to put the airplanes. Hence the slower production rate.
CFM is running about two weeks late on deliveries to Boeing, says a CFM supplier.
For its part, a Boeing spokesman wrote LNA, "We are taking proactive, measured steps to invest in the health of our production system and supply chain, best positioning us for the future. We will continue to assess our production plans."
Selling the A321XLR
Airbus hasn't launched the Xtra Long Range A321XLR, nor has it announced an Authority to Offer (ATO), but its sales force is out there selling the airplane.
According to information here in Atlanta, XLR positions for 2023 are already sold out.
The launch is expected at the Paris Air Show.
777X troubles
Suppliers and others here at the show look for Boeing to have challenges for the 777X.
With 72% of the orders from the Big Three Middle East airlines, the customer concentration is not a good thing.
With Etihad Airways essentially bankrupt and wanting out of the X orders and Emirates Airline down-gauging due to over-capacity, neither carrier is the once solid X customer it once was.
Coupled with the prospect the FAA certification process may take longer because of the intense focus over the MAX certification, Boeing may be looking at stretched out deliveries and a much weaker production ramp up than planned.
This will upset some free cash flow assumptions. FCF, of course, is what funds shareholder benefits to the tune of some $7bn a year.