June 17, 2019, © Leeham News: The Paris Air Show opens today and the elephant in the room is the Boeing 737 MAX.
There is no telling when the airplane will get FAA approval to return to service. According to some news reports, Boeing will hasn't turned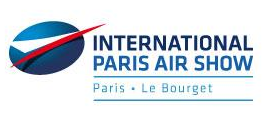 over the MCAS revisions to the FAA for review, testing and approval.
The acting administrator of the FAA said he expects the MAX to be back in the air by the end of the year. Some leapt to the conclusion this means December—and it may, but let's remember September, October and November are before the "end of the year," too.
There's no telling how other global regulators will act, and when, to conduct their own review and approvals. Airlines would like a global action. It's tough to tell customers one country sees the airplane as safe but others don't.
---
Leeham News will be at the Paris Air Show this week, with coverage by Scott Hamilton, Bjorn Fehrm and Judson Rollins. All coverage will be open to all readers.
---
Safe fix, big, black eye
I'm confident the MCAS fix will make the airplane safe. LNA's Bjorn Fehrm, an aerospace engineer and former fighter pilot, wrote he has not hesitation about flying the airplane once it's got the MCAS fix.
My concern is, how can we be confident Boeing has told pilots everything there is to know about differences between the MAX and NG. There's been this stead drip, drip, drip of information coming about what Boeing knew and didn't tell pilots or the FAA.
The differences between training levels of competency across the globe, to me, mandate simulator training.
By now, there have been simulations on social media of MCAS "1.0" is virtually impossible for pilots to override. Aviation Week reported the simulation by pilots of one major US airline (there are only three that have the MAX), starting at 10,000 ft. Pilots were barely able to recover. They knew what was coming and why they were doing the simulation. The pilots of Lion Air had no clue what was happening and started at 5,000 ft. The Ethiopian pilots knew what was happening, but their event started at 850 ft and they never got higher than 1,500 ft.
Scott McCartney, the "Middle Seat" columnist for the Wall Street Journal and a private pilot, sat in the third seat of a simulator and flew the sim through MCAS 1.0 and 2.0. The 1.0 was virtually unrecoverable. The 2.0 was benign and easily recoverable.
Boeing continues to oppose sim training. Technically, there might be a valid argument to make.
To restore confidence in the MAX with the pilots and passengers, it should support sim training.
Little expected this week
Little news is expected this week about the MAX. Nothing is likely from the FAA or from Boeing. Certainly no orders are expected, though some good ones would be a real endorsement of customer confidence in the airplane if some were announced.
There won't be any announcement of an Authority to Offer the prospective New Midmarket Airplane (NMA, or 797) from Boeing. Any decision by the Boeing Board of Directors won't be forthcoming until the MAX position is clarified.
Any suggestion that Boeing will skip the NMA and go straight to a 737 replacement is also off the mark, in Leeham Co's view.
There are some 4,500 MAXes in backlog, which stretches well into the next decade. There's no new step-change engine to support a 737 replacement. There has been no market intelligence we've picked up—none, zilch, nada—in which Boeing has shown even a concept, let alone a design, to airlines and lessors of a 737 replacement.
Boeing isn't about to launch a new airplane without testing market reaction.
It's already been nearly seven years that Boeing has been talking about a Middle of the Market airplane, which has been a difficult project for which to close a business case.
A 737 replacement business case is pretty easy. But it isn't something that will be launched on a few months' notice.
So, no 737 replacement this week, either.
Recovery
I often get asked, will Boeing and the 737 recover? My answer is, yes, absolutely.
Within a year or 18 months after the MAX is globally returned to service, and assuming no new accident associated with MCAS or some other design flaw, all will be forgotten by all but a few of the traveling public.
There will continue to be bad stories as federal, Congressional and accident investigation unfold. Lawsuits will keep the MAX in the news. Any new crash, or serious incident, will immediately raise questions about the safety of the airplane.
Image recovery depends, I think, on having the line pilots out front in a media blitz, not some "celebrities" that Boeing apparently has been thinking about, according to a Wall Street Journal article.
To me, and to passengers, there is one thing to keep in mind above all others: the first people to any accident scene sit in the cockpit.
If the pilots are confident in the fix (and simulators will help), then this should be the driving factor in restoring confidence in the airplanes.
I've already heard some airlines plan to simply quietly slip the MAX back into service. This is a poor move. Each carrier should have a pilot-flight attendant media team hitting their hubs and focus sittings to explain to the local press why they are confident the airplane is fixed and safe.
The head-in-the-sand approach is a disservice to the passengers and to their own flight crews, who will get questions from passengers. Reservations agents and airport personnel will also get questions.
All the MAX airlines need to prepare their employees up and down the line with briefings and answers.
This is unlikely to happen, though, making the MAX recovery longer and more difficult.