Jan. 27, 2020, © Leeham News: Back to the drawing board.
So to speak.
There is no drawing board, of course, but, rather, computer design.
In his first media conference last week as president and CEO of The Boeing Co., David Calhoun is going back to a fresh start on evaluating what Boeing needs for its next new airplane.
The New Midmarket Airplane (NMA) and Future Small Airplane (FSA) appear dead.
That's not to say, necessarily, restarting the analysis won't conclude one of these concepts is the right one after all.
But something entirely new might emerge, too.
The future, for now, is MAX
Calhoun naturally said the focus right now is to get the MAX back in the air and delivered to customers.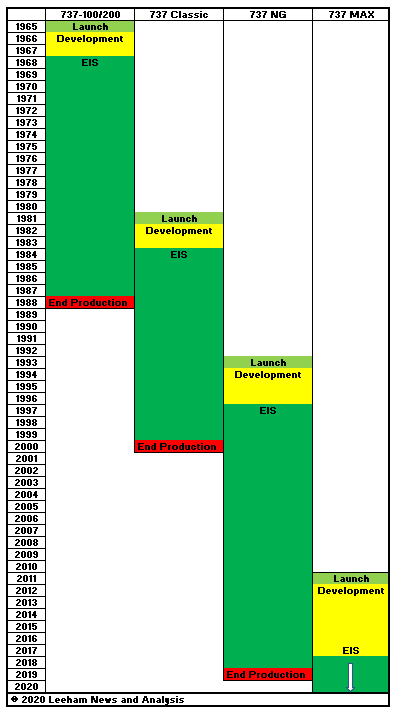 He sees the MAX around for at least a generation. Calhoun did not define the term, but in humanity, a generation typically is 20-25 years. With entry-into-service in 2017, 20 years will take this to 2037. This probably is the outside production period of the MAX.
The 737 NG entered service in 1997 and the MAX program was launched in 2011, a period of just 14 years. NG production ended in 2019, or 22 years. The NG program was launched in 1993.
The NG superseded the 737 Classic. The Classic entered service in 1984, just nine years before the NG program was launched. The Classic program was launched in 1981. The Classic succeeded what, in some quarters, became known as the 737 Jurassic—the original 737-100/200 series. This airplane entered service in 1968 after a program launch in 1965.
"This airplane will compete well for another generation," Calhoun said.
Returning to clean-sheet study
Calhoun said that the NMA study will be revisited in its entirety.
"That MMA project is going to be a new clean sheet of paper," he said. "We've had couple of years now go by since the first clean sheet of paper was taken to it. Things have changed a bit. Not so much MAX related, but the competitive playing field is a little different.
"We have to plan for China. We're going to take probably a different approach. We're going to start with a clean sheet of paper again. I'm looking forward to that. I think that next airplane will be great," he said.
"I want to do a little less visioning and a little less long-term planning and a little less all that stuff," he told the media last Wednesday. "We're just going to get back down to restoring trust with one another, trust with our customers, and trust with our regulator."
It appears this new study will begin with a deep dive into revisiting Boeing's philosophy of relying on the pilots as the ultimate in command, he said.
Airbus in the 1980s shifted its approach to more automation and more computer control. This is a practice that gained favor in the developing world where pilot training and skills may not be up to Western standards.
The Airbus philosophy has long been looked down upon by Boeing despite tiptoes into more automation on 7-Series airplanes.
Calhoun suggests there now may be a wholesale shift coming.
"We might have to start with the flight control philosophy before we actually get to the airplane. Because the decision around pilots flying airplanes, that's a very important decision for the regulator and for us to get our head around," he said. "As you well know, we have always favored airplanes that required more pilot flying than maybe our competitor did. We're all going to have to get our head around exactly what we want out of that. That'll be a process that will go on alongside of the next airplane development."
There is a future new airplane
Although Calhoun put the NMA on hold, he said he's not running from research programs; these will be sustained, but they may be reprioritized.
"We're not ripping them apart, we're not giving up on the future," he said.
"There are definitely investments we can make to support the engineering function and the disciplines attached to it," Calhoun said. "I know what those are. I'm not going to describe them externally until I get them firmly rooted internally, but we will do that."
The timing won't be driven by the future of the MAX, but it may be influenced by it.
"I am guessing and projecting the MAX will hold its own," Calhoun said. "The market split that existing prior to MCAS will restore itself. That will give us a lot of freedom on that next airplane. If that share position didn't restore itself, of course it would have an impact."