By Vincent Valery
Introduction  
Mar. 3, 2020, © Leeham News: After the 2012-2014 European sovereign debt crisis, passenger traffic grew briskly in Europe. The expansion of low-cost airlines, combined with increasing passenger traffic from Asia, contributed to this passenger boom on the old continent.
Despite the passenger traffic boom, the last few years have been challenging for most European airlines. Apart from a few notable exceptions, profitability is materially lower than at US carriers. There were several high-profile bankruptcies, notably Air Berlin, Alitalia, and Monarch, in 2017, followed by Thomas Cook last year.
LNA wrote a series last year on the struggling European carriers.
After starting in mainland China, there have been significant COVID-19 outbreaks in South Korea, Iran, and Italy. The number of diagnosed cases is increasing rapidly around the world, and notably in Europe.
Until two weeks ago, European airlines canceled most of their services to mainland China and reduced frequencies to other Asian destinations. However, with the outbreak intensifying in Europe, numerous carriers took emergency measures to reduce service on intra-Europe services.
European airlines are facing the COVID-19 disruptions with weakened balance sheets. To make matters worse, they have become the target of numerous environmental groups in Western Europe. The ongoing slump in passenger traffic will stretch some carriers' finances beyond recovery. The much-discussed consolidation wave seems a matter of when, not if.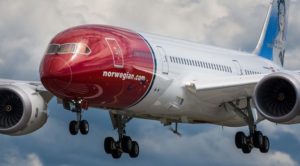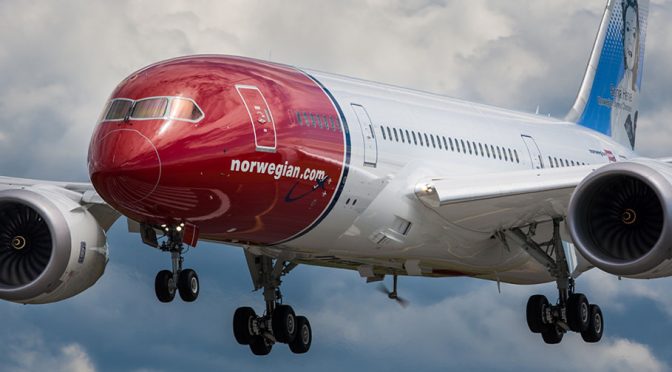 The financial challenges will undoubtedly affect OEMs, notably Airbus and Boeing.
In this article, LNA lists the scheduled OEM deliveries in countries affected by the COVID-19 outbreak, then assesses the financial vulnerability of major European airline groups.
Summary
A global COVID-19 outbreak;
Emergency airline measures to reduce capacity;
Almost all OEM 2020 scheduled deliveries affected;
Financial vulnerability at European airlines.
Spreading impact of coronavirus
The COVID-19 outbreak now affects more than 75 countries. Using the latest information from a John Hopkins University map and CIA world factbook population data, we compute the infection rate by country.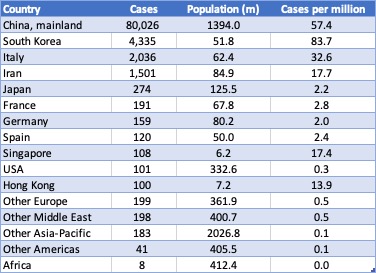 We display individual countries with 100 or more confirmed cases. We aggregate by region for the affected countries. The population total per region comprises the countries affected.
Among countries with 10 or more cases, the infection rate is north of 10 per million in China, South Korea, Italy, Singapore, Hong Kong, Kuwait, Bahrain, and Macau. South Korea has the highest infection rate.
Some countries banned flights to destinations severely affected by the COVID-19 outbreak. Numerous companies have implemented travel restrictions for their employees, including for domestic and short-haul international travel.
IATA published a chart that shows the annual passenger revenues for the most affected countries. It also shows the percentage of global passenger traffic each state represents. Six among the most affected countries (China, Japan, Italy, South Korean, Singapore, and Iran) represent close to $200bn annual revenues and 31.5% of global passenger traffic.
Airlines taking emergency capacity measures
As outlined in a previous article on the topic, Chinese airlines drastically cut capacity in response to a collapse in demand. Foreign carriers stopped almost all services to mainland China. Those restrictions are still in place. US carriers have canceled flights to China until the end of April.
With the spread of the virus to other countries, airlines have significantly reduced service to South Korea, Italy, and Iran. United Airlines announced flight cancellations and frequency reductions on its entire Pacific network. American Airlines and Delta Air Lines announced the suspension of services to Milan.
However, European airlines started taking more drastic measures. Lufthansa announced it would ground the equivalent of 23 long-haul aircraft. The German airline group will also reduce capacity by 25% on short and medium-haul routes. Alitalia announced the suspension of 20% of its services for March. British Airways, EasyJet, and Wizz Air are among many to have significantly reduced flights to Northern Italy.
Numerous countries in the Persian Gulf suspended flights to Iran. Bahrain also suspended flights from Dubai.
And stepping up cash preservation measures
Air France-KLM and Lufthansa announced hiring freezes, delay of technology investments, as well a halt to outside consultant work. Numerous airlines (including Lufthansa) are offering unpaid leave. Others, such as Cathay Pacific, are asking staff to take unpaid leave.
One should expect airlines to soon delay or suspend aircraft deliveries with OEMs.
COVID-19 hit countries represent the majority of 2020 deliveries
Below is a table with the scheduled 2020 deliveries at Airbus, Boeing, and Embraer: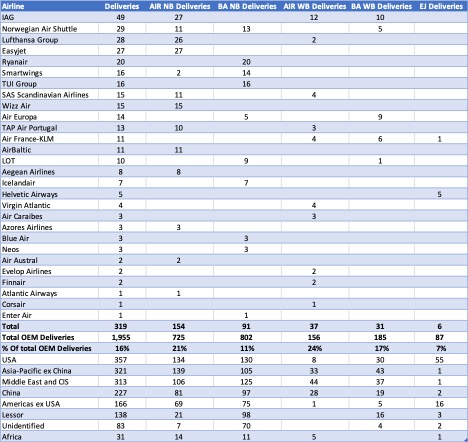 Around 16% of 2020 aircraft deliveries are to European countries. Airbus is the most exposed. If we include all countries affected by the COVID-19 outbreak. The majority of OEM deliveries are to COVID-19 countries. However, not all deliveries are going to be equally affected.
We will now turn our attention to airlines in the European Economic Area.
Some airlines with already strained balance sheets
Below is a plot with basic financial metrics for airlines in the European Economic Area that generation more than one billion euros in annual revenues: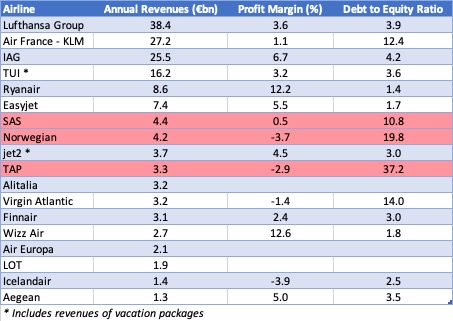 For the yearly turnover and profit margin, we use the latest available 12-month rolling data.
Alitalia and LOT, both effectively owned by their respective governments, do not publish earnings. Alitalia has been under court supervision since 2017 and loses around a million euros per day. LOT's revenue figure does not take into account the pending acquisition of Condor.
Air Europa, owned by Globalia, is in the process of being acquired by IAG. Globalia does not publish standalone accounts for its airline subsidiary. Globalia announced that Air Europa had a €100m operating profit in 2018.
One should note that the revenue figures for TUI and jet2 include vacation packages. Annual revenues at all TUI airlines are between three and four billion euros and around 1.5 at jet2, respectively.
Varying levels of leverage
The debt to equity ratio calculation includes the effects of IFRS 16. The new accounting norm requires airlines to add operating lease liabilities on their balance sheet. For Virgin Atlantic, which has not yet published accounts under IFRS 16, we included operating lease liabilities in computing the ratio.
Easyjet, Ryanair, and Wizz Air have a debt to equity ratio below three. Air France – KLM, Norwegian, SAS, TAP, and Virgin Atlantic have a debt to equity ratio above 10.
And aircraft ownership
To assess an airlines' ability to withstand a negative demand shock, one also needs to analyze the portion of its fleet under lease. Below is a breakdown for the airlines listed above: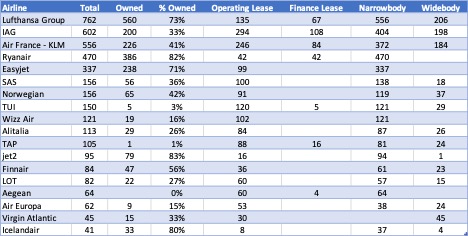 Jet2, Ryanair, Icelandair, Lufthansa, and Easyjet own more than 70% of the aircraft in their fleet. Aegean, TAP, TUI, Air Europa, and Wizz Air own less than 20%.
Some airlines in a strong position
Of all the airlines above, Ryanair has the strongest balance sheet and the highest profitability. The carrier could take advantage of the circumstances to fill capacity gaps or acquire rivals.
Among the legacy carriers, IAG and Lufthansa are in the best positions to capitalize. IAG is the most profitable legacy airline, while Lufthansa has the strongest balance sheet.
Air France-KLM's high leverage will prevent the group from capitalizing on investment opportunities that might arise.
But others in a weakened position
Norwegian Air Shuttle's financial woes are well documented, including in an LNA article. The airline's latest cash injection did not provide an adequate buffer for a shock of this magnitude.
TAP Air Portugal is also in a weakened position. Financial leverage is high and almost all of the airlines' fleet is under operating leases.
SAS has suffered in recent years from low profitability, a deteriorating balance sheet, and a pilot strike last year. The airline had to implement a drastic restructuring in 2012.
While the headline debt to equity ratio might not suggest so, TUI Group airlines could come under pressure. The airline has underperformed financially. Almost all of the carrier's fleet is leased. To make matters worse, the travel group has to contend with a slump in its holiday packages and cruise divisions.
Jet2 expanded capacity to fill the void left by Thomas Cook's demise. Its parent, Dart Group PLC, had a healthy balance sheet the last time it published results. However, rapid expansion could lead to cash flow problems if customers fail to book holiday packages.
Current circumstances will make it harder, if not impossible, for the Italian government to find a buyer for Alitalia without much larger job cuts.
A significant shakeup in the making
Unless the COVID-19 outbreak stops soon, the effect on airlines will be more substantial and more widespread than SARS. It is no exaggeration to say it could surpass the financial impact of 9/11. Those are trying times for the airline industry.
Given their subpar profitability, the intense competition, and political pressures, European airlines are particularly vulnerable. Numerous airline executives in the region have pointed out the need for further consolidation.
The European airline landscape could look vastly different in a year, which could materially affect OEMs. We will analyze the potential impact in the next article.