Nov. 16, 2020, © Leeham News: The European Union implemented tariffs Nov. 9 on Boeing and other US products in retaliation for the Trump Administration tariffs on Airbus and EU products.
This is the latest in the 16-year trade battle between the US and Europe over subsidies and tax breaks found to be illegal under World Trade Organization rules.
The US was authorized last year to impose tariffs on Airbus and other EU products. The Trump Administration initially imposed a 10% tariff on imported Airbus aircraft. A320/321s assembled at Airbus' Mobile (AL) plant were exempt, even though major components were imported.
Trump increased the tariffs to 15% in March, just as the COVID-19 pandemic erupted worldwide. As a result, few Airbus airplanes were delivered into the US since then.
15% tariff
The EU imposed a 15% tariff on Boeing aircraft that will be imported into the EU. With recertification by the US Federal Aviation Administration of the 737 MAX coming as soon as this week, theoretically some 737s could be delivered this year, subject to tariffs. However, Europe's EASA, the regulator, also must recertify the airplane. It previously said this could happen this month, but a definitive date hasn't been announced.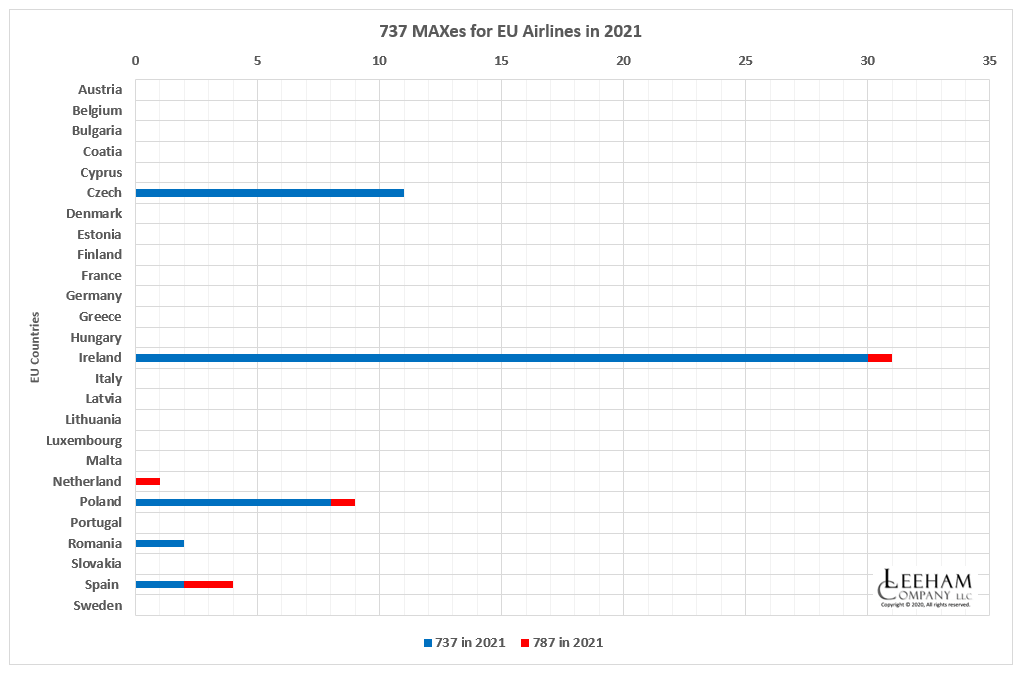 According to data seen by LNA, there are more than 50 MAXes scheduled for delivery next year to EU-member carriers and lessors. The largest number, 30, is to Ireland. This is home to Ryanair and many leasing companies.
Now that the United Kingdom exited the EU, only five 787s are scheduled for delivery into the EU next year.
How many of these planes will be delivered next year may be a matter of conjecture. The COVID-10 pandemic is a wild card. A new, devastating waves of infections is underway in Europe. Deaths also are spiking.
Seasonality works against Boeing in normal times. It's the slow winter season.
Boeing said on the 3Q earnings call it expects to deliver half the ~450 stored MAXes next year and the remainder the following year, depending on remarketing canceled airplanes. Production of new aircraft is at a low rate (LNA understands it is about 7/mo).
Net cash gain
One might ask why any customer would take delivery under the present circumstances.
Because it's possible to raise cash if they do. If the airlines finance the airplanes, virtually a certainty in this environment, they could recover their pre-delivery payments as part of the financing. If the airplane is sold and leased back, there is a possibility the proceeds might exceed the price paid to Boeing, for a gain. This isn't the slam-dunk it used to be in a healthy market. But American Airlines, for one, is banking on a net cash gain.