April 9, 2021, ©. Leeham News: Last week we made a summary of the history of initiatives for sustainable aviation, now we look at the likely developments over the next 10 years.
What is the likely development for different classes of airliners and what technologies will be popular?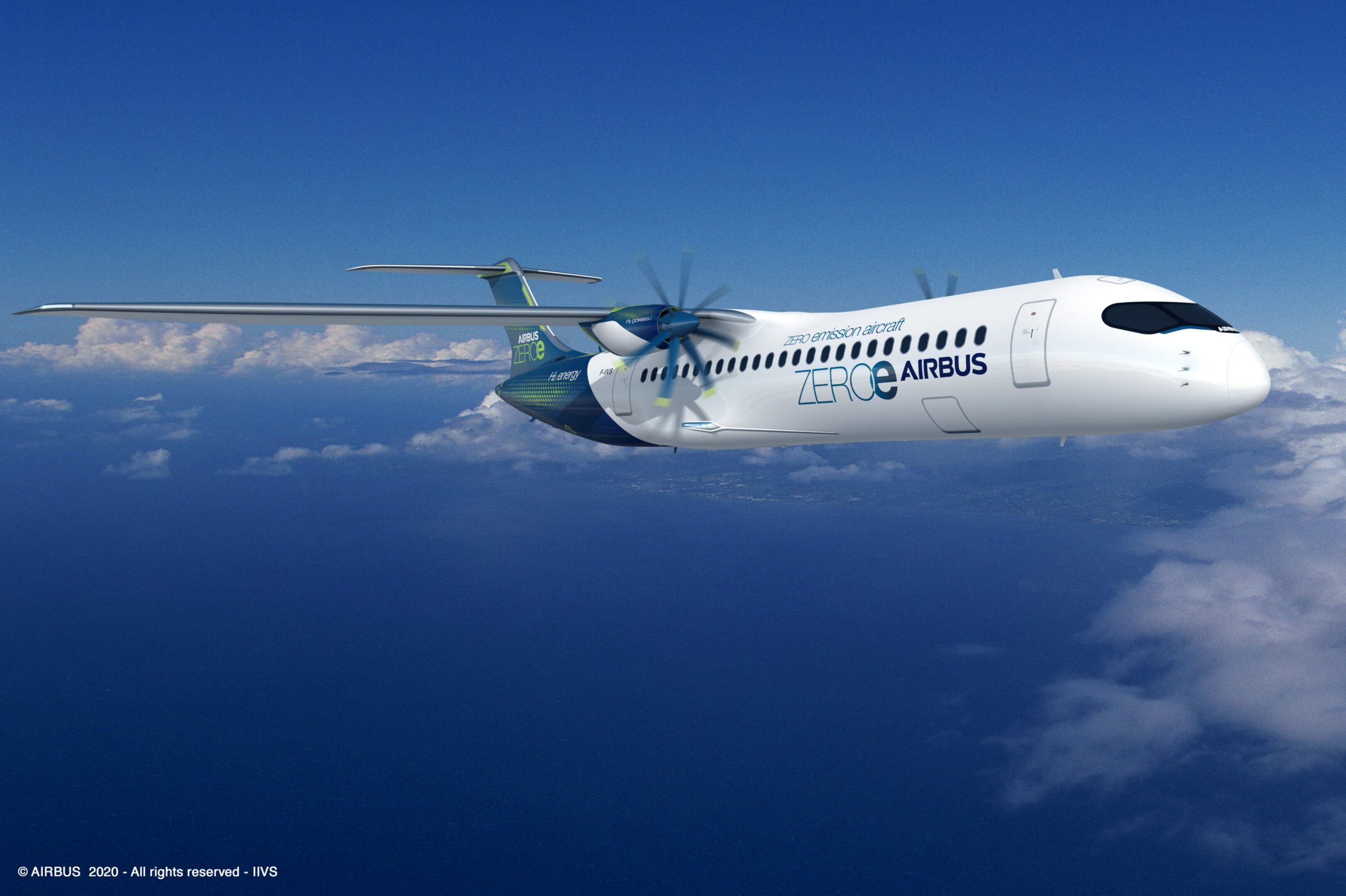 Sustainable aviation over the next 10 years
In the week, another project, the Britten-Norman Islander Fresson project, abandoned trying to make a retrofit hybrid-electric propulsion system work and changed the project to a hydrogen-based aircraft. When working through an operational system, including safety precautions and redundancy, the project found the plane consumed the same or more carbon fuel than the engines it should replace.
I've been writing about this reality for over three years, and it's now catching up with more and more projects. So what is the path ahead? The Fresson project, which is for a 10 seater, will go for gaseous hydrogen.
It's noteworthy, ZeroAvia which started with a gaseous hydrogen fuel cell system and has flown a Piper Malibu demonstrator, converts to liquid hydrogen for the fuel cell system it's developing for 50 seater turboprops. The gaseous hydrogen demands too much space once the range requirements grow.
Universal Hydrogen addresses the same market with its retrofit fuel cell project but stays with gaseous hydrogen. Airbus, looking at a range of airplanes from 80 seats and larger, is firmly in the liquid hydrogen camp.
Developments until 2030
We shall first realize Sustainable Aviation Fuel, SAF, will be an essential part of de-carbonized air transport. The number of aircraft that will be qualified for SAF will grow, and we can foresee that no new airliners will be developed that will not be certified for running on SAF.
SAF is also the only viable alternative for long-range aircraft. The problem is how to produce sufficient SAF for the worlds' 20,000 to 30,000 commercial aircraft?
The feed-stock, be it bio-mass, fat waste, or syngas production with different processes starting with CO2 and H2O, is not sufficient to deliver SAF to all these aircraft. We need a complement, and the only viable alternative at present is hydrogen.
Do we need UAMs?
For extreme short-haul, like UAMs, batteries work. But these vehicles are not the most environmentally friendly solution for short-haul transport. There are other, better alternatives like trains and road transport where green energy solutions are already available.
The main segment
The bulk of all air transports today are made with 100-200 seat aircraft flying routes between one to two hours. This will extend to 220 to 230 seats over the next 10 years, but the travel time will not change.
About two-thirds of the airliners that fly every day is of this type. This is where a hydrogen solution fits, liberating the available SAF for the segments where hydrogen does not work.
What to expect
So what will be the steps we can expect until 2030? We can expect the first prototypes flying with fuel cells and liquid hydrogen before 2025. The first demonstrator with gaseous hydrogen feeding a fuel cell has already flown, ZeroAvia's Malibu last year.
We shall understand this was a short demonstration flight with one person onboard a test aircraft filled with gas tanks and fuel cell gear, driving an electric motor, far from something operationally viable. This experience has enabled ZeroAvia to go forward with a 1.6MW system for a 50 seat turboprop, with market entry by 2026.
Airbus is already active with component tests for a fuel cell propulsion system, as are others. We can expect an ATR 72 size demonstrator to fly mid-decade, latest, at the Paris Air Show 2027.
Based on the results of the ground tests over the following years and the flying demonstrators, we will know if the first commercial aircraft larger than 50 seats will be turboprops or jets, and if these jets will address the sub 150 seat market or the heart of the market, the 180 seaters.
One area that must go forward for all the hydrogen projects to be viable is the hydrogen-producing ecosystem. Without it, the airliner projects will fail. How the ecosystem develops or not, we look at next week.