March 29, 2022, © Leeham News: Alaska Air Group announced last week that its subsidiary, Horizon Air, will retire 32 De Havilland Canada (DHC) Dash-8-400s by the end of 2023. The regional airline will go to a single fleet type, the Embraer E175-E1. AAG owns some of the 175s. Regional partner SkyWest owns and operates others.
The plan adds to the struggles of DHC to return to service -400s stored at the start of the COVID pandemic. At the end of 2021, there were more than 150 stored. As of last week, this number was down to 142, according to the ch-aviation data base. Another 17 were in maintenance. There were 398 in service. The number stored represents 25% of the -400 fleet.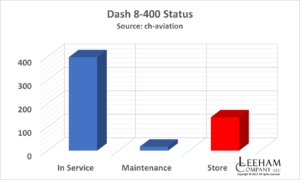 Consolidating to a single fleet type doesn't bode well for Embraer's efforts to win Alaska/Horizon as a launch customer for its new TPNG. This advanced turboprop, proposed in 70- and 90-seat versions, has engines mounted on pods at the rear in the latest concept shown to the industry. A new engine will replace the aging but reliable Pratt & Whitney PW-series used on the Dash 8 and ATR-42/72. P&W, GE and Rolls-Royce are developing a new generation engine.
Embraer wants to launch the program this year with a proposed entry into service of 2027.
Looking at widebody demand
The COVID pandemic may be waning, but in-service demand and new orders for twin aisle airplanes may take quite a while to recover. The best guess among "experts"—and that's all it is—suggests international travel will recover by 2024, followed by a pickup in new orders.
But these are just guesses.
In the meantime, the backlog for widebody aircraft is surprisingly close. George Ferguson, an analyst with Bloomberg, provided the following chart at the Speed News conference last month.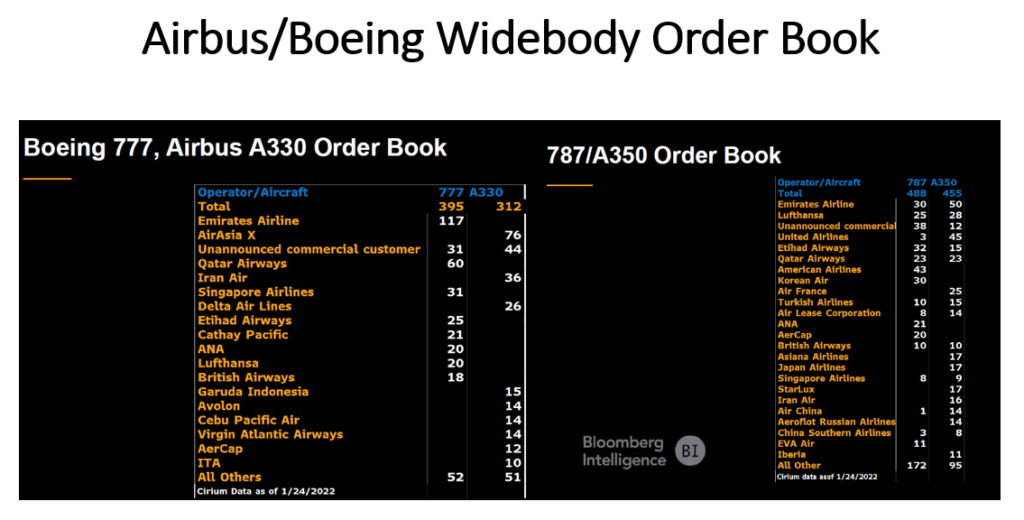 Boeing sees incumbency as advantage for KC-Y tanker procurement
This story is now open to all readers.
---
Air Wars named top reads in 2021

Royal Aeronautical Society
Named to the Top 10 List of Aerospace Books for Christmas Choices, 2021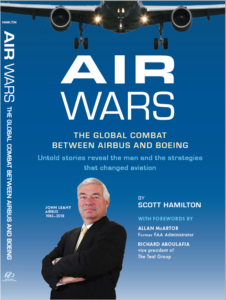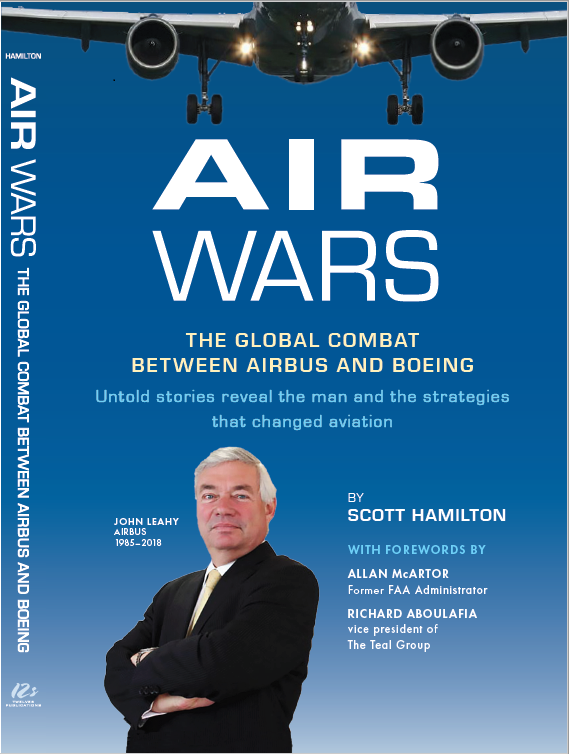 Puget Sound Business Journal
(Seattle area.) No. 1 on the Christmas list of aerospace books for 2021.
BookAuthority
No. 1 on its list of Best New Aerospace eBooks to read in 2022.
Chris Sloan, The Airchive
"A worthy successor to 'The Sporty Game,'" the 1982 book by John Newhouse, considered at the time to be the definitive book about the competition between Boeing, McDonnell Douglas and the emerging Airbus.
Jim Sheehan, Aviation Industry Consultant
There is so much model and OEM information that it is for sure going to become required reading for anyone who wants to understand the last fifty or so years of commercial aviation.
Loved all of the quotes and stories.
Dan Catchpole, Aviation Writer
Air Wars is a tour de force look behind the curtain of Boeing and Airbus' global competition and, in part, a biography of Airbus' head salesman, John Leahy, the man who forced Boeing's hand to re-engine the 737. Longtime aerospace analyst and journalist Scott Hamilton takes readers through the twists and turns of the decades long battle between the two companies.
Dan Reed, Aviation Writer
Using John Leahy's long and monumental career as a vehicle for telling readers about the 51-year battle between Airbus and Boeing is both an interesting and inspired choice by the author.
Air Wars is available in paperback and eBook form at Amazon and in paperback at Barnes & Noble.