Airbus held a summit December 4 for stakeholders in the A340 to explain how there continues to be life after production ended and despite being a four-engined airplane in a two-engine world.
Key to the future of this out-of-production airliner is increasing the capacity of the A340-600 to an exit-limited 475 seats and for Rolls-Royce to alter its Total Care engine maintenance Power-by-the-Hour terms and conditions to reduce costs.
Airlines, financiers, appraisers and the engine makers were invited by John Leahy, chief operating officer-Customers of Airbus. Engine providers CFM International, Rolls-Royce, Lufthansa Airlines and Hi Fly, a small European airline, made presentations in addition to Airbus.
Airbus produced 246 A340-200/300s and 131 A340-500/600s; 227 and 131 respectively are in operation or parked.
| | | | | |
| --- | --- | --- | --- | --- |
| Status | A340-200 | A340-300 | A340-500 | A340-600 |
| In Service | 19 | 175 | 20 | 90 |
| Stored | 6 | 27 | 14 | 7 |
Airbus guaranteed the residual value on an unknown number, and has strong motivation to see these airplanes continue in service, according to one person familiar with the situation.
Bernstein Research wrote in a recent note, A340s remain under pressure, with high fuel prices making these airplanes uneconomical in most applications. We expect that Airbus exposure to A340-500/600s could exceed €1 billion on AVGs exercisable at 10-12 years. EADS has taken provisions for these (extent unclear) and will likely work with airlines to find other financial arrangements than simply to pay out cash on the AVGs.
The perception in some corners is that there is no value or role to play, a second person familiar with the situation tells us. The summit was to help stakeholders "understand there is a future. The A340 does a very good job on long, thin routes and hot-and-high airports. There are also A340s that can provide available lift right now as interim capacity while waiting for new aircraft."
Indeed, Norwegian Air Shuttle wet-leased A340s to cover delays in deliveries of the Boeing 787 and in-service interruptions.But AirAsiaX dropped low-fare routes between Asia and Europe, then using the A340-300, as uneconomic as fuel prices rose. The airline substituted twin-engine A330s on some services and plans to use A350s in the future.
The A340-200/300 entered service in the early 1990s but quickly was challenged in the marketplace by the twin-engine Boeing 777-200ER and later the -300ER, a more economical aircraft whose utility increased as fuel prices skyrocketed. The A340-500/600 were developed as ultra-long range (ULR) aircraft, which has proved a niche since the days of the Boeing 747SP. Even Boeing's 777-200LR had limited sales. The A340-300 is regarded even by some within Boeing as a decent aircraft (Boeing took some in on trade for 777 sales), but the -500 is not especially well regarded in the market, which cast its vote with only 34 sales—a highly limited number even for ULRs. The larger capacity A340-600 sold three times the number of the -500, but by this time the A340 was eclipsed by the 777-300ER.
The 200/300 have CFM56 engines; the 500/600 have Rolls-Royce engines.
Fuel prices have eased a bit—now about $95bbl vs $103bbl a month ago—which helps the A340, says an Airbus official. However, prices are anything but stable.
One person attending the summit said that lease rates for the A340 need to be in the $340,000/mo range to offset the fuel disadvantage. According to Aviation Specialists, a 10 year old A340-300 has a current market value of $24m and a base value of $35m. These values suggest a lease rate of between $240,000-$350,000/mo. The -500s and -600s have higher values.
Collateral Verifications indicates current lease rates for the -300 at $320,000/mo for a 10-year old model. Collateral has lease rates of $425,000 and $500,000 for the -500 and -600 respectively.
"The A340 has just such an awful reputation, nobody wants to touch it," says one person trying to find a market for the aircraft. "Everybody is just petrified of the Trent [engine on the 500 and 600]. The CFM engine is OK."
But some believe there continues to be opportunity in the Southern Hemisphere and with carriers that find ETOPS qualification a challenge.
Nico Buchholz, the fleet planner at Lufthansa Airlines, which has a large fleet of A340-300s and A340-600s, praises the aircraft for certain routes.
"On a 4,000 meter runway between Frankfurt and Chicago, the [new] 777X is so much better," he told us. "But it's so much more expensive." For a small, start-up long-haul airline, or one that would have challenges meeting ETOPS (extended twin-engine over water operations) requirements, Buchholz says an inexpensive A340 will be an attractive alternative.
He also characterized the A340-600 "as the best aircraft to Mexico City," beating any 777 "hands down. The CASM (cost per available seat mile) is cheaper to Mexico City than the 777."
Buchholz says Lufthansa's A340s are all fully depreciated (which was over 12 years to 15% of the original purchase price), eliminating about 20% of the cost basis.
(Text continues below Table.)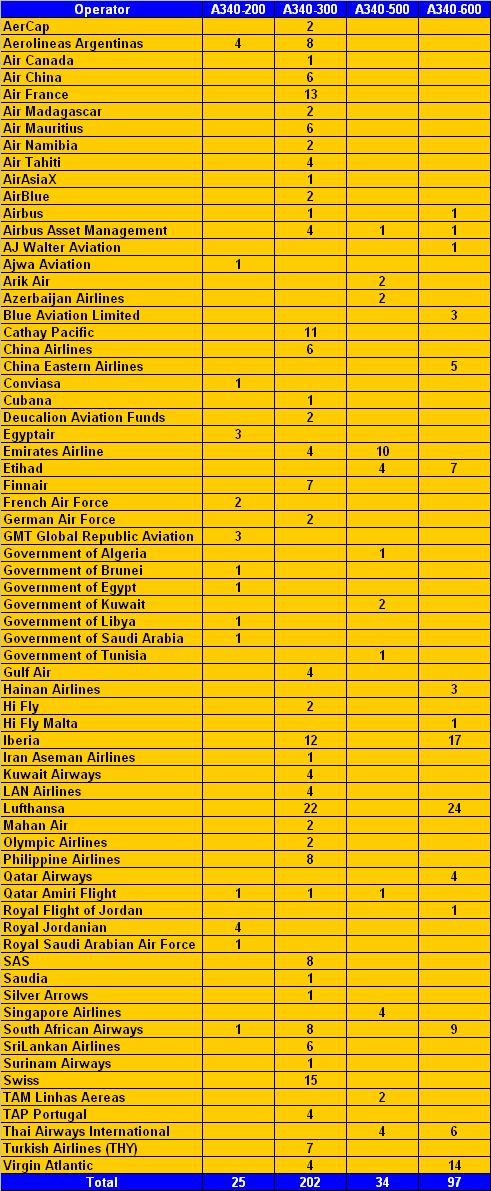 Airbus claimed at the summit that the A340 is more economical than the 777 in certain comparisons, a view scoffed at by Kostya Zolotusky, managing director of Capital Market Leasing for Boeing Capital Corp.
"If I believe what they said, I'll be looking day-by-day for headlines that they will restart their production line. Most of the time they're sensible but this was a little awkward," he told us in an interview.
Andreas Herrmann, VP A340 Asset Management, spoke with us after the Summit. Key points made there:

Airbus says the A340-300, which is lighter than the 777-200ER, uses 5% less fuel per trip with 300 and 312 passengers respectively;
The A340-600 is lighter than a Boeing 747-400 but heavier than a new 777-300ER. Accordingly, Airbus says that it uses 21% less fuel than the 744 but 12% more fuel than the 773ER. Passenger counts assumed are 475, 510 and 475 respectively, the maximum allowed by exit limits. Range assumed is 4,000nm (a typically A346 mission).
The 475 passenger count is the new capacity Airbus will seek to certify for the A346, which will lower cost per available seat mile by 7% and increase revenue potential by 35 seats, or an 8% increase in capacity, for a potential $5.5m/yr in increased revenue.
If an airline wants to replace the 744 or wants to add lift that is available now (vs a long lead time for next generation airplanes) or seeks a lower capital cost solution, and it has other Airbus aircraft in the fleet, commonality in training, parts, maintenance, etc., can save the carrier $1.25m a year per airplane instead of introducing a new fleet type.
ETOPS certification is unnecessary with an A340.
Airbus claims the A346 has a monthly revenue potential advantage over the 744 of $557,000 after all cost factors are considered. This assumes wall-to-wall people of 475 passengers for the A346 and 510 for the 744, $3 fuel and a 4,000nm mission.
Airbus also claims an economic advantage for a "mature" A346 vs a new 777-300ER, largely on a much smaller capital cost. The assumed lease rate for the A346 is $450,000/mo vs $1.3m for the 773ER. This delta provides an economic advantage to the Airbus of $433,000/mo, according to Hermann.
Similar assumptions give the A340-500 an economic advantage over the 777-200LR, Hermann says, amounting to $216,000/mo.
The A340-300's advantage over the 777-200ER–again, largely but not entirely on capital cost assumptions–is pegged at $356,000/mo.
"The new 475 maximum passenger capacity allows the A340-600 to enter into the request from the secondary market of aircraft capable of 450-500 seat capacity and the A340-600, with this new certification at 475 seat, can fill it in a more efficient way," Airbus told us.
Airbus says that the 744 seat count used is based on what is the average seat count of the three to four highest capacity 744 operators. It can be one or two classes (as the A346). "Being a bigger module, the 744 can carry on average more passengers than the A346, but due to its higher fuel burn  (+21% per trip) vs the A346 and its aging factor in the maintenance cost, is less efficient than the A346," Airbus says.
The A340-500, an ultra-long range airplane with a 9,000nm capability, was produced in few numbers and one-third are VIP models. Hermann said this is the principal future for this aircraft.
Rolls-Royce's Total Care package has been criticized as too costly and inflexible. Herrmann said RR pledged to improve the program. CFM engines power the A340-300 and Performance Improvement Programs are available.
One appraiser, who did not attend the event, remained skeptical, saying that the A340-300 is a difficult aircraft to place and which has a scrap value of $5m-$10m.