By Bjorn Fehrm
April 05, 2017, ©. Leeham Co: Turkey's Pegasus Airlines has its operations center south of Hungary's Wizz Air that we wrote about last week. With a hub in Istanbul, the Turkish LCC connects Europe and West Asia/Middle East.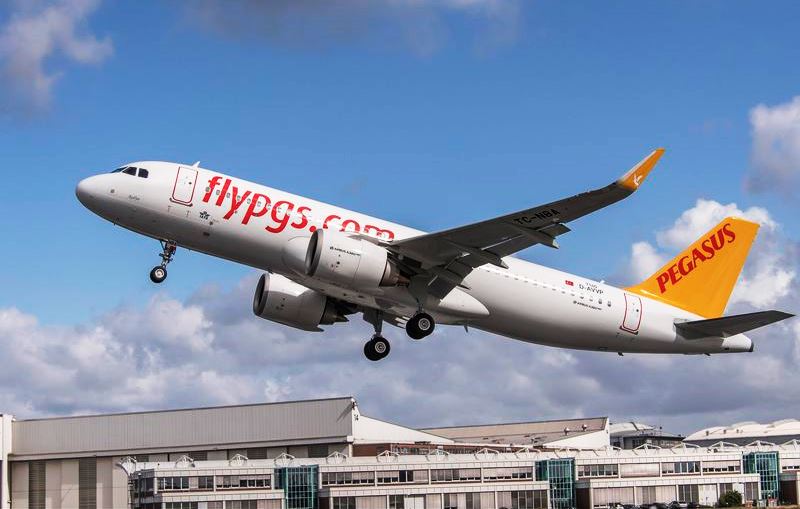 Pegasus is a fraction larger than Wizz Air and had the same dynamic development until last year, when the internal unrest in Turkey threw a spanner in the airline's growth.
The LCC connecting Europe and Asia
Pegasus started as a Turkish-based charter airline by local investors and Aer Lingus in 1990. ESAS Holdings bought the company 2005 and changed it to an LCC. The development has been rapid since, with the airline today covering 101 destinations in 40 countries, Figure 1.
The route network is a mix of Domestic (32) and International destinations (68), which go as far as Delhi, India, and Urumqi, China.
Traffic development has tracked slightly ahead of that of Wizz Air (Figure 2), with operations focusing on geographies further south, straddling Europe and West Asia/Middle East.
The attempted June 2016 state coup in Turkey brought political unrest. Traffic to Turkey as a tourism destination plunged, Figure 3. The growth in domestic travel fell as well.
The changed travel climate did not stop Pegasus' expansion but it hurt its bottom line (EBITDAR), as an expanding fleet could not be filled with international traffic, Figure 4.
In Figure 4, TL and TRY stand for Turkish Lira, which converts to $0.27. For international traffic, Pegasus shows results in Euro as the Turkish Lira has a fluctuating value.
The weakening international traffic is driving Pegasus to sell and lease out older aircraft in their fleet. The airline has also deferred three of five Boeing 737-800 orders for 2017 to 2018 to help with the capacity control.
Pegasus received nine A320neos with LEAP engines during 2016. Average age of the fleet is 5.4 years. The fleet has a planned growth to 100 aircraft by 2020, Figure 5.
Pegasus is one of the lowest cost LCCs, with CASK ex-fuel at 2.81 Euro cents during 2016. Management is focused on keeping this costs level while increasing a rather low load factor of 82% domestically and a very low international load factor of 72%.
The low load factors for an LCC is the result of the recent decline in traffic paired with the expanding fleet, Figure 4 and 6.
The decline of results for 2016 has shrunk the cash reserves to around $200m, Figure 7.  The increased asset and debt from 2015 (+~80%) is the result of the A320neo aircraft that arrived during 2016.
Shareholder equity at 28% is higher than Norwegian Air Shuttle (20%) but considerably lower than Wizz Air (52%), EasyJet (49%) and Ryanair (45%).