Oct. 16, 2017, © Leeham Co.: The stunning Airbus-Bombardier partnership for the CSeries program guarantees the future of the new airplane, kills off the A319 and thrusts a big stick up Boeing's tailpipe.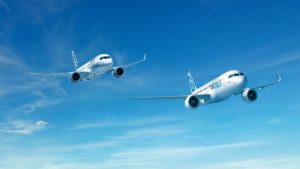 Boeing won big victories in its trade complaint filed with the US government, winning 300% tariffs on every CSeries imported into the US, throwing into doubt a big deal with Delta Air Lines for up to 125 aircraft.
US assembly line
The Airbus-Bombardier deal includes establishing a second CSeries assembly line at Airbus' Mobile (AL) plant. Bombardier CEO Alain Bellemare is confident CSeries assembled there for delivery in the US will be duty-free.
This means Delta will have to reschedule its deliveries, if the US government doesn't reverse preliminary findings on the duties or the US Court of International Trade or another venue doesn't overturn the findings.
The news probably stunned Mobile officials, too. LNC was in Mobile last week; officials didn't say anything about it then, and Airbus today told LNC that since this was a "material" announcement, they could not tell Mobile officials until the transaction was announced.
The transaction is scheduled to close in the second half of next year, after regulatory approvals.
Filling a gap
The deal fills a major gap in the Airbus product line: below 150 seats. Airbus CEO Tom Enders said there hasn't been a sale of the A319, the 126-seat model, since 2012. The CS100 seats 100-110 passengers and the CS300 135-145 (and 160 in high density).
Enders declared that the CSeries presented no competition to Airbus because of the lack of sales for the A319.
Boeing, on the other hand, offers the 737-700, which will be phased out with the 737-7 MAX. Poor sales of the 7 MAX prompted a redesign, adding 12 seats. But the move hasn't spurred sales.
The trade complaint Boeing filed with the US government asserted the CS100/300 will kill the 7 MAX and threaten the 737-8 MAX. The US government agreed, and levied the tariffs.
Alain Bellemare, CEO of Bombardier, firmly declared that any CSeries assembled at Mobile and delivered to a US airline or lessor will not be subject to tariffs.
With sales of the 7 MAX non-existent, and a duty-free CSeries available to US customers, Boeing has a huge product gap at the bottom end of its product line.
Boeing did not respond to an email seeking comment.
Boeing and Embraer have had several commercial agreements, though none for the E-Jets. It remains to be seen whether the Airbus-Bombardier deal will prompt something new between Boeing and Embraer.