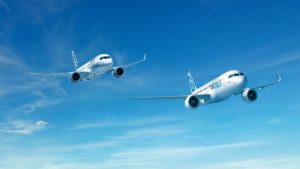 Oct. 17, 2017, © Leeham Co.: The Airbus-Bombardier transaction announced yesterday has implications well beyond the United States, which has been much of the focus of analysis post-announcement.
The analysis focused on the US is natural, given the Boeing trade complaint involving the CSeries sale to Delta Air Lines.
But it's important to step back to see what this means for CSeries.
Stability for the Program
Despite the financial bail outs by Quebec, a Quebec pension company and the Canadian federal government, long-term stability of Bombardier remained a question. Sales were hampered as a result.
The Airbus backing removes doubt over the CSeries program.
Product support
Bombardier's product support has long been a target of criticism in the industry, particularly after high-profile landing gear collapses on the Q400. Airbus' support will address this.
China
Bombardier has Memorandums of Understanding or Letters of Intent for 50 CSeries from two Chinese companies, a lessor and an airline. Both were announced years ago and neither has been converted to firm orders.
The reasons why these orders haven't been converted or new ones landed are speculative in the highly secret Chinese society. One reason given in industry circles is that the Bombardier fuselage production plant in Shenzhen Shenyang remains a problem child. Bombardier is producing fuselages to backstop Shenzhen Shenyang. The story goes that until Shenzhen Shenyang is fully up to speed, no orders will be firmed or forthcoming.
Another is the airlines for which the CSeries are prime targets are restricted by government fiat from adding too many airplanes too quickly.
Finally, the stability and product support issues may be at play.
Regardless, Airbus' involvement will undoubtedly provide some comfort. Chinese orders may start flowing now. Market intelligence indicates BBD has been involved in some serious talks with major airlines. It's not beyond the realm of possibility that Airbus will now play a pivotal role.
Elsewhere
Market intelligence indicates that Bombardier is a serious contender for at least two significant orders in Africa. The Airbus connection might tip the scales.
Synergies
Although there is nothing common between the CSeries and the A320 family, Airbus is in a position to offer deals linking the CSeries to other Airbus family members.
Aftermarket services might also be a source of income for Airbus. While Airbus is well behind Boeing in pursuing aftermarket services, it's not ignoring the sector.
There is a lot of information that has yet to emerge to draw complete conclusions. But at least on the surface, this does seem to be one of those instances where there are winners for the participants.
On the other hand, Boeing—which already has denounced the deal—and Embraer appear to be losers.