Nov. 8, 2017, © Leeham Co.: A revised mission focus for the the prospective Boeing New Midmarket Aircraft (NMA) is seen by a New York research firm.
Bernstein Research sees the NMA being redefined as a larger aircraft serving the Airbus A320/Boeing737 market rather than a replacement for the Boeing 757/767 "Middle of the Market" sector.
Bernstein has been cool to the prospect of a 4,500nm-5,000nm airplane. The analyst, Doug Harned, likes the proposed size—220-270 passengers in a 2x3x2 ovoid
composite fuselage configuration. But he sees a stronger market serving ranges of 1,000nm to 4,500nm.
So far, there is no market intelligence LNC knows of to support any inference Boeing has refocused the mission statement of the NMA, also known as the Boeing 797, though Harned is firm in his view: "The focus is now on the NMA category, which we see as the right positioning," he writes in a Nov. 6 research note.
Airlines LNC checked with yesterday reaffirm Boeing's focus at this time to be 4,500nm-5,000nm.
Recasting the mission
Harned sees limited market demand for the NMA, an issue that's vexed Boeing and its suppliers.
"The NMA model fits well with fast growing Asian markets and should be able to do many trans-Atlantic routes," Harned writes. "The range, however, would not be sufficient to do longer, thin, transatlantic routes, say, Newark-Warsaw or Charlotte-Berlin. We see those longer-range routes as better suited to a 787 or A330.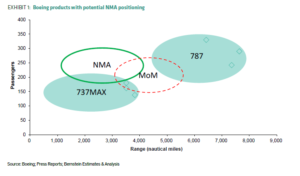 "The reason for the shorter range is that it allows weight to be taken out of the wing and the engines can be optimized more toward a high number of cycles between overhauls (e.g. like a CFM-56 or V2500 rather than a Trent 700). This means that the airplane could operate efficiently on thicker routes of under 2,000 nm, which are common in the Asia-Pacific region."
Another analyst LNC consulted indicates Boeing is marketing the airplane to low cost carriers who fly, or want to fly, the trans-Atlantic routes.
Taking the pressure off Airbus
A 2027 EIS for the NMA and a 2030 decade for the New Small Airplane replacement for the 737 would take the pressure off Airbus to cobble together a quick response to the launch of the NMA, was many assume will be next year by the Farnborough Air Show (a date Harned still subscribed to).
But it also gives Airbus time for another round of improvements to the A321neo that could eat at the bottom end of the MOM sector and further encroach on what some believe to be a risky business case for the NMA.
This could also give momentum to the idea of restarting the 767-300ER passenger line. See stories from October here and August here. (Wall Street Journal take note: You read it here first.)