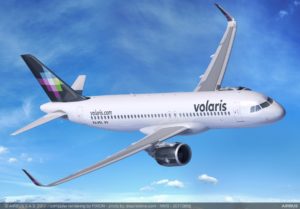 Nov. 15, 2017, © Leeham Co.: It was an historic day for commercial aviation at the Dubai Air Show.
Airbus and Indigo Partners announced an order for 430 aircraft (the A320neo family), a record in units and in value ($49.5bn).
Boeing announced a huge order from flyDubai, an affiliate of Emirates Airline, for 225 737 MAXes. Value: $27bn.
Parenthetically, CDB Leasing firmed up an order for 90 A320neo family members announced at the Paris Air Show.
Indigo Partners
Indigo Partners has no relationship to the Indian airline, Indigo, which had the largest backlog of A320s. Partners owns Frontier Airlines in the US, (United States) and owns or is a major investor in , JetSMART (Chile), Volaris (Mexico) and Wizz Air (Hungary).
The MOU includes 273 A320neos and 157 A321neos. The aircraft will be allocated as follows:
Wizz: 72 A320neo, 74 A321neo
Frontier: 100 A320neo, 34 A321neo
JetSMART: 56 A320neo, 14 A321neo
Volaris: 46 A320neo, 34 A321neo
Engines will be selected later.
flyDubai
flyDubai committed to 50 MAX 10s, with 125 being split between the MAX 8 and MAX 9. The remaining 50 of the 225 aircraft are at this stage purchase rights. The entire package must be converted to a firm order.
CDB Leasing
CDB said the "agreement was reached in two steps: an original purchase agreement signed in 2014 for 45 A320neo Family aircraft, which remained undisclosed to date; and the firming up of the Memorandum of Understanding (MoU) for an additional 30 A320neo and 15 A321neo aircraft announced at the Le Bourget Paris Airshow in June 2017."