By Bjorn Fehrm 
January 31, 2018, ©. Leeham Co: IBERIA will be the first airline to get the upgraded Airbus A350-900. The airline presented the news at the Fitur 2018 International Tourism Trade Fair in Madrid.
The airline's first A350-900, delivered in June, will be the first A350-900 featuring the aerodynamic improvements we presented in October.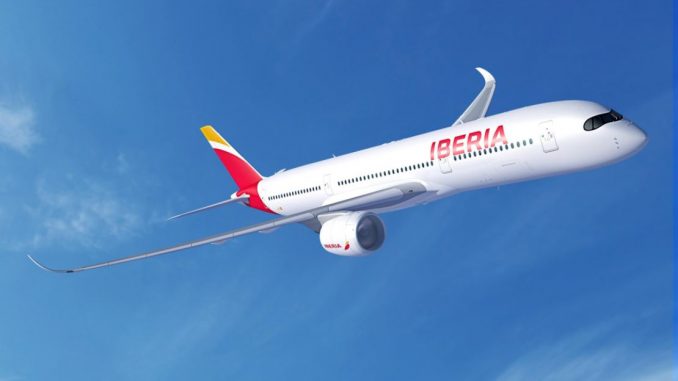 IBERIA and the A350
The parent group of IBERIA, IAG, ordered both A350-900 and -1000. The 18 A350-1000 were ordered for British Airways to replace Boeing 747s and presumably ageing Boeing 777-200ERs and -300ERs going forward. The A350-900 is no alternative for British Airways, as it operates a sizable fleet of Boeing 787s. The common pilot type rating makes the 787 an attractive complement to the existing 777 fleet for British Airways.
IBERIA, on the other hand, operates no Boeing aircraft. Its Pilots are all trained and certified for Airbus aircraft. The A350-900, therefore, makes sense as a replacement for the A340-600 and probably some A330-300s. Dependent on route development, the order of 16 A350-900s could see some aircraft convert to the larger A350-1000 at the end of the deliveries, which are programmed for 2021.
IBERIA first to receive new A350-900 version
IBERIA will receive its first A350-900 in June. Once the aircraft has done the airline familiarization, it will be put on the first long-haul route between Madrid and JFK. IBERIA will get a second A350-900 later in 2018, followed by another 14 until 2021.
IBERIA will be the first airline to receive the new version of the A350-900, incorporating several improvements.  The aircraft includes aerodynamic improvements, among them the new higher winglets we announced in October, Figure 1.
Airbus discovered during flight test of the A350-900, the pressure distribution of the wing could be further improved. The way to do this is to change the spanwise twist distribution of the wing. This requires a change of the wing production tools and a limited flight test campaign to verify the changes don't change anything in the characteristics of the aircraft.
With a change in the wing's tooling and the following limited flight test, the chance opened to do other changes to further improve the performance of the A350. Airbus decided to use the margin in the wing's strength, found during static load testing, to increase the size of the aircraft's winglets. This together with an adapted twist of the wing will reduce the aircraft's induced drag.
The aircraft also incorporates structural improvements, lowering the empty weight of the aircraft.
In total, the changes improve the fuel consumption of the A350-900 by 1%. The improved aerodynamics also means a range improvement of 100nm. For the IBERIA 280t version of the A350-900, this means a range of 8,200nm when flying with a 3-class cabin of 325 passengers.