Special Sunday edition of Pontifications.
July 15, 2018, © Leeham News: The Farnborough Air Show officially starts tomorrow, when airframers begin their public relations presentations and orders are announced.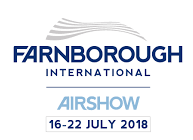 As this is written on July 13, I'm doing a final update of what to expect from the show. It's always risky making predictions. If they are overly optimistic or pessimistic, the predictor can look foolish.
But here goes.
LNC took its first forecast look June 25.
Ihssane v Eric
This is the second air show for Boeing sales chief Ihssane Mounir. It's the first for the new Airbus sales chief Eric Schulz.
Naturally, everyone is going to be looking to see who comes out on top.
Mounir, in an upset, skunked Airbus on its home turf, the Paris Air Show, last year. It was Mounir's first as Boeing's sales chief and the last for Airbus' super-salesman, John Leahy. Although Leahy won the sales race by year-end, the Boeing win at Paris was embarrassing for Leahy and Airbus.
Going into Farnborough, the advance buzz gives the momentum to Boeing.
Mounir is expected to land a major order for the 777F, perhaps around 14 for DHL. This is an important deal for the bridge between the 777 Classic and the 777X, which is still weak.
Also on Mounir's agenda: winning an order for the 777-8 from Ethiopian Airlines and perhaps Saudi. New orders for the X are important—there haven't been many since the program launch in 2013/14.
I also expect Boeing to firm up the 40 787-10s ordered by Emirates Airline last November, which was not converted to a firm contract in 2017.
Mounir is also pushing for more 737 MAX orders to gain ground on Airbus' large market share lead in single-aisle airplanes.
Schulz is making his maiden voyage at Airbus. A former Rolls-Royce sales executive, Schulz has impossible shoes to fill—Leahy's—so he has to chart his own course.
He has huge challenges.
The A330neo continues to lag. Tony Fernandez, CEO of AirAsia X, the largest customer by for the airplane, seemingly engaged in negotiation-by-Twitter recently when he said everything is right about a follow-on order except price. He's publicly flirted in the past about ordering the 787.
Schulz needs to get more orders for the A330neo. If Mounir were to flip AirAsiaX, it would be a huge blow to the program. Fernandez, who is nobody's fool, knows it. Everyone knows it. Airbus can't afford to lose this deal.
Also in need of a boost: the A350 program. The lack of delivery slots, and the decision by Boeing to up the production of the 787, means losing sales, not only for the A350 but also the A330neo.
Airbus recorded Unidentified orders in June for 10 A350s and 10 A330neos. These should be announced at Farnborough. But more needs to be done.
A200 nee C Series
I continue to look for a boost to the program formerly known as C Series. Airbus renamed the plane Tuesday to the A220 (220-100 for the CS100 and 220-300 for the CS300).
Look for start-up carrier Moxie Airlines to be a good prospect for 60 A230s. This deal may include Air Lease Corp as the flow-through lessor. An order from ALC would be a big endorsement for the C Series. Non-Executive Chairman Steve Udvar-Hazy in the past said he liked the plane but it cost too much and had too few customers. An order from ALC/Moxy will be a major endorsement.
There might be another major A220 order ready to go at the air show.
JetBlue last week announced an order for 60+60 A220-300s. The timing was a surprise–the decision between the A220 and the Embraer E195-E2 wasn't expected until toward the end of the year.
And we're still waiting for the MOU announced last year by Bombardier for 31+30 C Series to be firmed up.
Embraer
Embraer remains a stand-alone company at Farnborough. The deal announced this month by Boeing and EMB to create a new company is only an MOU. It may take a year to hammer out details, terms and conditions, which means EMB could still be an independent company at the Paris Air Show next year.
Embraer officials expected a surge of orders this year at Farnborough. We'll see.
This post appears on Sunday. Deals start getting announced tomorrow and continue all week. We'll see how good my prognostication is by the end of the week.