Appraisers differ on market size but Boeing's new aircraft type could launch as early as 2026.
Sept. 11, 2018, (c) Airfinance Journal: No announcement was made at the Farnborough Air Show about the proposed New Midsize Airplane (NMA). With Airbus'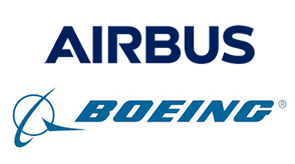 A321neo model selling well, the ball is in Boeing's court.
The A321neo is Airbus's weapon to challenge that market and the European manufacturer is trying to move fast into the middle of the market segment with more A321neo improvements in an effort to challenge further Boeing on its business case. The aircraft's current maximum range is 4,000 nautical miles (nm), but Airbus is understood to be working on an improved version that would be capable of 4,500nm or more. This would enable airlines to operate the aircraft on transatlantic services to destinations further south on the US east coast and further east.
After the A330-800neo market
Extending the range of the A321LR, among other things, could be the reason why there are delays in announcing the NMA business case. Airbus A321LR possible improvements might yet tighten the mid-market pincer from below but the Toulouse-based manufacturer has yet to convince the market with its A330-800neo. This has not gone unnoticed by Boeing, whose strategy will be pointing out the commercial difficulties of the A330-800neo.
Appraiser firms believe Boeing will launch the NMA with an entry-into-service of about 2026-27. "Analysis of recent all new programmes suggest there is a typical seven- to eight-year development period between authority to offer and entry into service. So, if there is no authority to offer before the end of 2018, then the earliest entry into service would likely be sometime in 2026 or 2027," says Flightglobal Ascend's head of consultancy Rob Morris. He believes the Boeing business case is clearly sensitive to volume and price and a case both for "launch and no launch" can be made.
Production transformation is very important in making the business case. "This could be key as the NMA could become an enabler for the production system for the next-generation single aisle aircraft, which is where the key battleground will be for Airbus and Boeing in the future," says Morris.
"I think production transformation is part of the business case but not all," says Gueric Dechavanne, vice-president, Collateral Verifications. He adds: "The OEMs [original equipment manufacturers] have become more and more efficient at building aircraft, so this will just be a continuation of that. My belief is that in order for the NMA business case to make sense, it needs to include the top end of the Max family."
Market footprint
Angus Mackay, principal at ICF, says the size of the market is between 3,000 and 3,500 aircraft over a 20-year period. Dechavanne thinks more of a 1,000 to 1,500 aircraft market. Morris says the NMA market footprint will be highly dependent on the aircraft's size and range, which appears to be coalescing about 5,000nm and 220 to 275 seats dual-class, as well as Boeing's ability to manage unit cost and, of course, the competitive reaction from Airbus.
Ascend believes there is an opportunity for the NMA to capture a significant share of the demand between 2025 and 2040.
"There are a wide range of demand and supply scenarios, with the NMA capturing upwards of 1,500 deliveries through 2040." Mackay says: "Optimum NMA appears to be around 220-270 passengers in a two-three-two ovoid fuselage, with a range of around 4.500nm. The key sweet spot is the 45,000lbs thrust engine. Neither Airbus type covers this without any compromises."
Morris says that Airbus has that market covered to some extent with its A321neo and A330-800 model. "Boeing also already has some of this market covered with the Max 10 and 787-8 model. The future of the NMA depends upon how market share plays out between these aircraft."
Dechavanne believes that the current and future improvements of A321neo and A330-800 models could cover the segment well, but he also warns should Boeing launch a new family of aircraft that replaces the top end of the 737 Max family, Airbus will need to react with a new family as well.
Engine choice and price
The appraisers are divided as to which engine providers will power the NMA.
Dechavanne sees Pratt & Whitney and Rolls-Royce being in the programme "as long as they can get their act together with their current issues".
Oriel's Les Weal expects General Electric and another engine manufacturer. Mackay anticipates one engine provider only with the programme share risk: General Electric and CFM International. Weal expects NMA pricing to be in the $70 million and $80 million bracket, though he expects early orders to get significant discounts. "Having engine choice will help pricing too," he says.
Mackay sees pricing at about $75 million and $80 million net to airlines, with significant buyer-furnished equipment content.
Morris says net delivered price will be in the $67 million to $82 million range. Dechavanne is at the upper range of the market with an $80 million and $90 million estimated price range.