Jan. 11, 2019, © Leeham News: Airbus trailed Boeing in net orders in 2018 but it still holds a commanding lead in backlog market share.
With the companies reporting their year-end tallies, Airbus has a 56% share of the backlog to Boeing's 44%.
Airbus carries the day with narrowbody backlog. Its share is 58% to Boeing's 42%.
Boeing wins the widebody backlog, 53% to 47%, driven by a broader product line, including strong 777F and KC-46A/767-300ERF backlogs.
When the emerging narrowbody airplane programs of China and Russia, and Embraer's sole entry into the 100-150 seat sector (based on two-class seating), Boeing's narrowbody share of the backlog drops from 42% to 40%.
Charts are below. Data is based on firm orders only.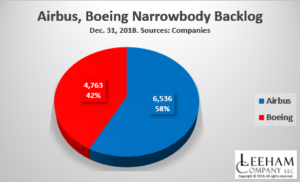 .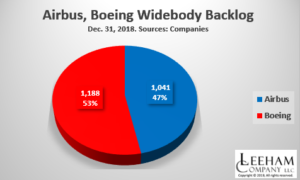 .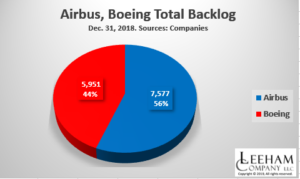 .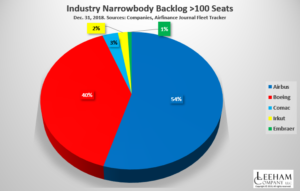 .