Supply chain demands: Earlier this week, we talked about the prospect of production wars as Airbus and Boeing ramp up over the next five years, combined with the new entrants and the new offerings from Bombardier and Embraer.

We noted that this will mean opportunity and risk for the supply chain. Ryan Murphy from Salem Partners has a long analysis the starts with the finishing sector but which goes beyond this to discuss the broader implications. It makes for an interesting read.
Southwest: Hints of things to come? Yesterday we wrote about Southwest Airlines and the demise of the Wright Amendment that restricts travel from Dallas Love Field. We suggested several routes that Southwest would launch from Love once the Amendment passes into history.

Here's a display Southwest erected on its countdown to the end of the Wright Amendment. We think it hints at things to come. Going clockwise: Chicago, New York and Charlotte seem to be where the airplanes are going. Then Los Angeles and Salt Lake City seem to be implied destinations. But the last one? Boise, or some other obscure city?
Or are we reading too much into the placement of these airplanes?
Source: Dallas Morning News
Our thoughts: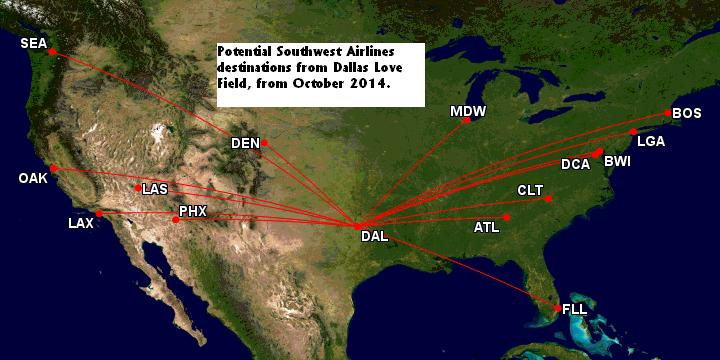 Retrospective: We were looking at previous posts for some specific information and in the process re-read one about replacing the Airbus A320 and Boeing 737. The post dates from 2009. In light of subsequent events, it makes for interesting re-reading. We discuss the internal views of Airbus and Boeing about replacement or re-engining their aircraft and the engines from Pratt & Whitney and GE Aviation/CFM. We also touch on Boeing leaning toward not replacing the 777.
Retrospective, Part 2: Airchive has a nice set of historical looks at the development of the Boeing factory at Everett: Part One and Part Two.