If some industry observers are concerned about the prospect of over-production now, the current state of affairs may only be the tip of the iceberg.
Airbus CEO Fabrice Bergier says he expects to boost production of the A320 and A350 families over the next few years, overtaking Boeing by 2018.
Airbus currently produces the A320 at a rate of 42 per month. The A330 rate is 10/mo and the A380 at 3/mo. Production of the first customer-destined A350 is to begin by the end of this year, with a targeted delivery in the second half of next year. Ramp-up to an initial production target of 10/mo is planned over a four year period, but the wing factory in Broughton, Wales, has a capacity for 13/mo, inferring a greater rate is already planned. Airbus is considering a second A350 production line, largely focused on the A350-1000.
Boeing currently produces the 737 at 38/mo, going to 42/mo next year. The 777 rate is 8.3/mo and the 747-8F/I rate is 1.75/mo. The 767, driven by the USAF tanker, is 1.5/mo. The 787 is ramping up to 10.mo, with a target by year end, but we believe this will be more likely in Q12014.
Boeing has notified the supply chain to consider higher rates for the 737, 767 and 787. We posted the chart below last June, reflecting the higher planning rates.
Boeing is exploring the possibility of a higher rate for the 777,  but we haven't been told of any expectation at this time.
Any rates adopted by Boeing will undoubtedly be matched by Airbus.
But this is only part of the story. Bombardier, Embraer, Mitsubishi and Russia's Irkut each have new planes going into production. China's COMAC has plans for its new C919, though this is a question mark. The following chart takes into account existing, announced and anticipated construction rates of the major manufacturers. The ARJ21 is excluded because the disarray in this program allows no rational basis on which to make a projection. The Sukhoi SSJ100 is excluded for similar reasons. We don't have enough visibility of the Irkut MC-21 to have an understanding of this projected rate. The following chart doesn't include twin-aisle aircraft.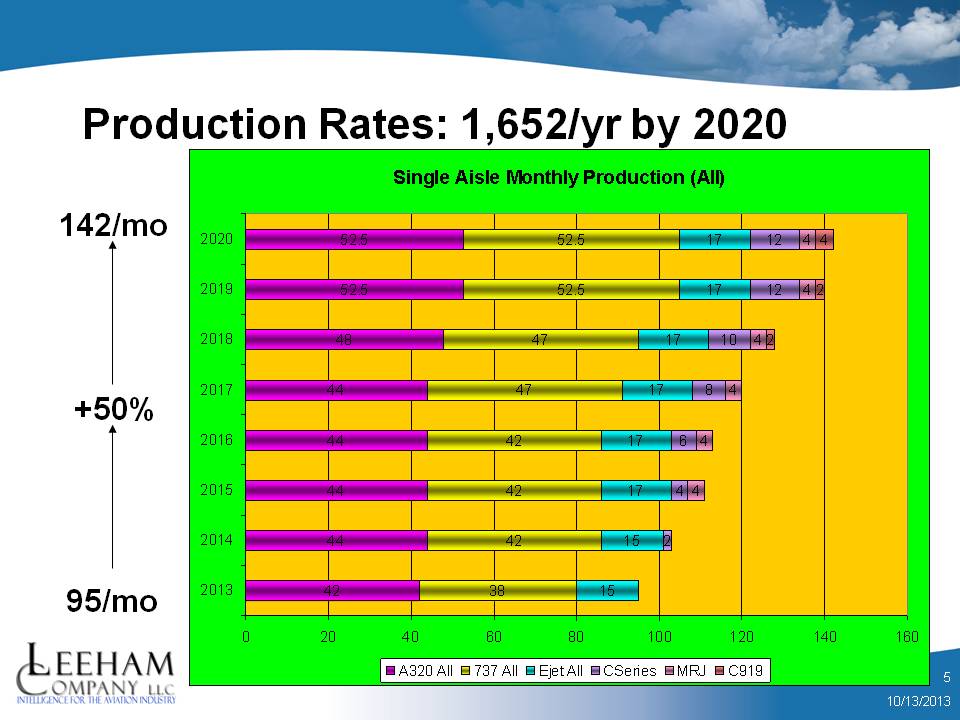 These projections do not allow for geo-political or terrorist events, global recessions and health scares. The OEMs have become pretty adept at managing the skyline of orders to stabilize production through these.
The supply chain implications are obvious. Most suppliers service the Big Four OEMs (Airbus, Boeing, Bombardier and Embraer) and are also on the emerging programs from the new entrants (COMAC, Mitsubishi, Irkut). Ramping up to meet this demand will require capital expenditures and employment growth, with the risk that a geo-political or terrorist event could be of such magnitude that OEMs have no choice but to reduce production rates.