Sept. 19, 2017, © Leeham Co., Montreal: The Bombardier CSeries has proved to be 1% to 3% more fuel efficient in service than advertised, the company revealed last week at its Media Day.
The improvements depend on the mission: 1% on shorter routes and 3% on the longer ones.
Better-than-advertised performance had been rumored, and reported, for months but this is the first time Bombardier confirmed the reports.
It also depends on the model. The CS100, a shrink design, is slightly better than advertised; the CS300—the optimized design—is the better performer.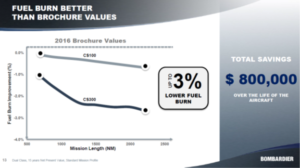 Bombardier's view of the sector
With Boeing's redesign of the 737-7 MAX, adding 12 seats and adopting and shrinking the MAX 8 airframe, Bombardier reclassified the 737-7 as a "large single aisle" airplane.
The CS300 used to be compared with the 737-700 and the original 737-7 MAX design. The former carries 130 passengers in standard two-class configuration and the latter two carried 126. The new 7 MAX carries 138.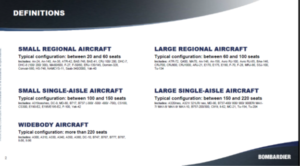 The reclassification happens to also takes away the comparison between the CS300 and the 7 MAX, at least in BBD's view—an important distinction in the current trade dispute between Bombardier and Boeing before the US International Trade Commission and Department of Commerce.
Boeing correctly pointed out that even Bombardier compared the CS300 with the 737-700 and 7 MAX (when it was the old design, something Boeing didn't distinguish in its filings). Boeing correctly pointed out that media (including LNC) did likewise.
Now, with the revised 7 MAX carrying 138 passengers to the CS300's 130, Bombardier suggests the two airplanes no longer may be compared.
LNC sees this as a distinction without a meaningful difference. The 130-seat CS300 was four seats larger than the 737-700/old 7 MAX. It's eight seats smaller than the new 7 MAX. But the CS300 is solidly in the 125-150 seat sector most commonly recognized as a dividing point in the 100-150 seat market—as are the 737-700, the old 7 MAX and the new 7 MAX.
In single class, the new 7 MAX can seat 172—but the CS300 can seat 160, both into the +150-sector.
Economics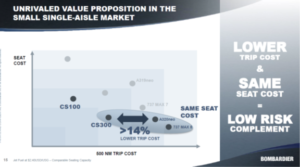 Bombardier claims the same seat-mile cost for the CS300 as the Airbus A320neo and a significantly lower trip cost. It's presentation at the Media Day suggests a lower seat-mile and trip cost than the new 7 MAX design. (LNC's analysis preliminarily suggests similar seat costs to each other but the CS300 has a lower trip cost.)