Feb. 26, 2018, © Leeham Co.:  I'm tardy in getting around to this topic, which I do annually, because of an unusually heavy travel schedule this year.
The airframe manufacturers in January adjusted their list prices for airplanes. The prices generally went up 2%-4%, but turboprop maker ATR didn't adjust this year.
Meaningless numbers
Of course, list prices are meaningless; no airline or lessor pays list.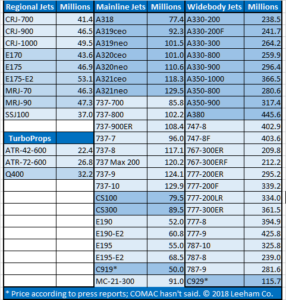 In years past, discounts were assumed to be about 45% on average. In recent years, 50% became the norm.
Now, LNC sees deals going to 60%, 65% or even more discounted to list.
It's not just the big airlines, like United, Delta or British Airways, that are seeing steep discounts.
Small airlines with small orders (a dozen or so) airplanes are seeing deep discounts.
Hawaiian Airlines
Strategic campaigns can command steep discounts for small orders.
Take the Hawaiian Airlines competition between Airbus and Boeing. While it's apparently not quite done yet—there was some thought it would be completed last week, but it wasn't—the competition was fierce.
LNC was told Boeing priced its 787-9 below the production cost of the competing Airbus A350-900. We don't know what the A359 costs to produce, but we do know what we've heard about previous selling prices. This suggests to us that Boeing offered the 787-9 to Hawaiian for less than $115m and maybe less than $100m.
The 789's list price is $281.9; you can do the math.
Wall Street analysts believe Boeing now can make the 787-9 for between $80m and $90m. This still leaves Boeing a reasonable profit margin.
But Boeing's business plan is evolving to wrap in Boeing Global Services to contracts. Thus, even if Boeing went lower or its costs were higher, profits might come from the aftermarket contract with BGS—assuming this is involved.
The strategic reason to unload at this price is, of course, to kill the A330-800. HA is the only customer for the airplane, though Airbus believes the market will emerge c.2020, as the current fleet of A330-200s it replaces ages. Expansion by ULCC long-haul carriers is another element of the strategy.
Other airplanes
Based on our own market intelligence, Boeing asks $140m for the 787-10; this is a 57% discount to list. Airbus and Boeing are known to have offered the A321neo and 737-10 at discounts of more than 60% to list.
Regional jets OEMs don't have quite the same ability to discount; these tend to be more in the 50% range, according to market intelligence.
An exception: the Bombardier sale of the CS100 to Delta Air Lines that became the focus of a complaint by Boeing to the US government over price dumping.
Bearing in mind that the list price at the time was just over $70, one price thrown out there by Boeing was $23.4m, a 67% discount to list. This is steep and it's rare, but it's not unknown, even by Boeing standards.
On the other hand, if Boeing's calculation of $19.6m after credits is correct, the discount is 72%, which indeed would be "absurdly low."
Bombardier and Delta both denied these pricing numbers. Each company provided the contract to the USITC, but this juicy information was redacted from the public filings.
After-thought
Our post Feb. 20 that reported Boeing displaced Airbus at Hawaiian Airlines, winning an order for the 787-9 in lieu of the A330-800, caused quite the stir.
LNC has been following the Hawaiian competition for months. We mentioned it in our paywall article Feb. 8, Airbus, Boeing square off with A330neo, 787 in advance of NMA: "HA is running a competition between the 787 and the A350-900, with the intention to cancel the -800, LNC is told."
We also noted that, "The 787-8, ordered by Legacy American, found that it's configuration doesn't work well in the New American business model. Interest in more -8s is said to be limited, but not out of the question."
The article is now open to all subscribers.
Subsequently, the airline said the A330-800 contract is still in place. I'll concede I should have written that Hawaiian is "to" cancel the order (future tense), not that it "cancels" (present tense).
For those who read some sort of nexus into the story and the fact I was in Toulouse for the Airbus handover of the first A350-1000 to Qatar Airways, this was happenstance. The tip off came from the US.