Update, Dec. 7: Embraer to appeal injunction.
According to the Google translation of a Brazilian newspaper, the injunction appears to be intended to halt any completion of the deal during the interim between the November presidential election and the assumption of office by the president-elect. The Google translation does not appear to indicate the injunction is based on any specific objection to the proposed JV.
ANALYSIS
Dec. 6, 2018, © Leeham News: In a stunning piece of news, a Brazilian court blocked the proposed joint venture between Boeing and Embraer.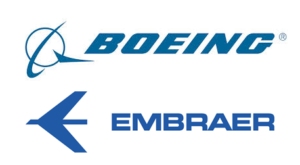 If the action holds, this is a major blow to Boeing's future plans.
The new joint venture, which LNC dubs NewCo for the lack of a name, was to be responsible for all future Boeing aircraft of 150 seats and below, according to a Memorandum of Understanding revealed by Embraer's labor unions.
This is critical to Boeing's long-term future for the 2030 decade.
737-7 rejected by market
Legacy Boeing, faced with the prospect of launching the New Midmarket Aircraft next year with a target-EIS of 2025, faces replacing the 737 after the NMA.
The 737-7 has been rejected by the market, with fewer than 70 sold since the MAX program was launched in 2011.
Embraer, which specializes in smaller aircraft ranging from 76 seats to 122-seats (two-class, EJet E2), could concentrate on the below-150-seat market while Boeing would focus on the NMA and the so-called heart-of-the-market of 165 or more seats now filled by the 737-800/8.
Embraer was also expected to provide engineering talent for the NMA because some 5,000 Boeing engineers and technicians are eligible to retire in the next 5-10 years.
Embraer needs Boeing
As much as Boeing needs Embraer for the small airplane sector, Embraer needs Boeing, perhaps even more.
The E2 has been slow-selling (in part, waiting for the JV to be approved). The E175-E2 is too heavy for US labor union Scope Clauses with American, Delta and United airlines. Embraer has a conditional order with Skywest Airlines, a Delta and United operator, for 100 E175-E2s, and no others worldwide.
With the engineering on E2 program largely wrapped up and doubts whether the E175 E2 will ever be built, Embraer Commercial Airplanes needs Boeing and its NMA-JV work.
Indeed, Reuters wrote, citing Embraer that the Boeing deal "is crucial to its survival."
More reporting may be expected as details of the court's decision become available.